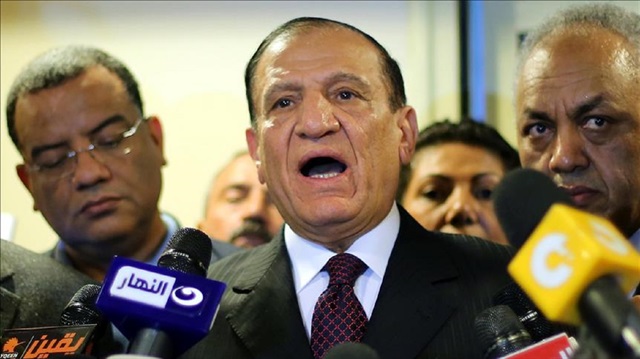 Former Egyptian Armed Forces Chief of Staff Sami Enan officially announced early Saturday that he will run in the upcoming presidential elections set to take place in March, contesting Egypt's Abdel Fattah al-Sisi.
In a five-minute video declaration posted on Facebook, Enan said he will run for president in aims to save Egypt from "wrong policies."
https://www.facebook.com/SamiEnan.official/videos/1584409384981625/
"I call on civilian and military institutions to maintain neutrality towards everyone who had announced their intention to run and not take unconstitutional sides of a president who will leave his post in a few months," Enan said.
He added that he appointed former top auditor Heshan Genenina as a vice president for human rights and transparency, as well as political science professor Hazem Hosny as an official spokesperson and vice president for knowledge.
A few hours earlier, Egyptian President Abdel Fattah al-Sisi officially announced his intention to run for a second term.
Sisi declared his announcement during the final day of the "Story of a Nation," conference where the Egyptian President has been presenting his government's achievements throughout his rule over the past four years.
Egypt's National Elections Commission (NEC)  started on Saturday receiving the documents that are necessary for presidential hopefuls to submit in order to be allowed to run for office in the upcoming elections.
Enan stated that he'll be submitting his candidacy documents to the NEC right after he completes the requirements as per military law, as a former army chief of staff, to run.
The NEC will receive submission until January 29, according to the presidential race schedule, which is set to start with the vote of Egyptians abroad on March 16, and on March 26 for Egyptians inside the country.
Other candidates declared their will to run in the 2018 elections, including human rights lawyer Khaled Ali,  MP and Zamalek Sporting Club chairman Mortada Mansour.
To be accepted as a candidate for the presidency, candidates must receive the recommendation of at least 20 elected members of the House of Representatives, or support from at least 25,000 citizens enjoying the right to vote in at least 15 governorates, with a minimum of one thousand supporters from each governorate. In all cases, no one person can support more than one candidate.
The campaigning period for the 2018 elections will kickstart on February 24 and end on March 23, state news Al-Ahram reported.
In the case that no participant wins a majority vote during the first round of the elections which are set for March 26-28,  a runoff will be held on April 24-26.