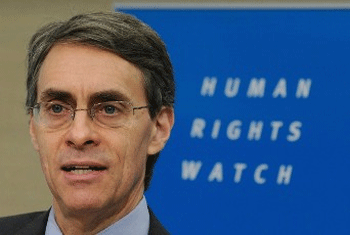 Journalist Maged Atef accused Human Rights Watch of manipulating his testimony published in the recent report issued by the organization on Tuesday over the dispersal of the Rabaa al-Adaweya and Nahda sit-ins staged by supporters of ousted President Mohamed Morsy in August.
The report accused Egyptian authorities of using violence against protesters without holding any official accountable for the killing of hundreds of Egyptians during the dispersal.
"I worked for US Newsweek as a correspondent during the dispersal of Rabaa al-Adaweya sit-in. I gave my testimony as per request of Heba Morayef, the director of Human Rights Watch in Egypt," he told Al-Masry Al-Youm. "The report mentioned that its writer met with me twice and that the question on the incident of killing a policeman was confusing."
"The report mentioned that my testimony is unreliable due to conflicting testimonies," Atef said, adding that he will file an official complaint to the HRW director to investigate the issue.
Atef said that what matters to him the most is the manipulation of his testimonies, which, according to him is inexcusable, for an organization whose work is supposedly accurate and credible.
National Council for Human Rights (NCHR) member Nasser Amin, in charge of the council's investigation of the Rabaa sit-in said Atef's testimony was one of the strongest in the report and should not be belittled.
"Atef's story shows that the organization's report about the dispersal of Rabaa was biased and unsystematic and that those who made it were biased. It includes fatal fallacies that destroy the credibility of the international organization," Amin told Al-Masry Al-Youm.
Edited translation from Al-Masry Al-Youm