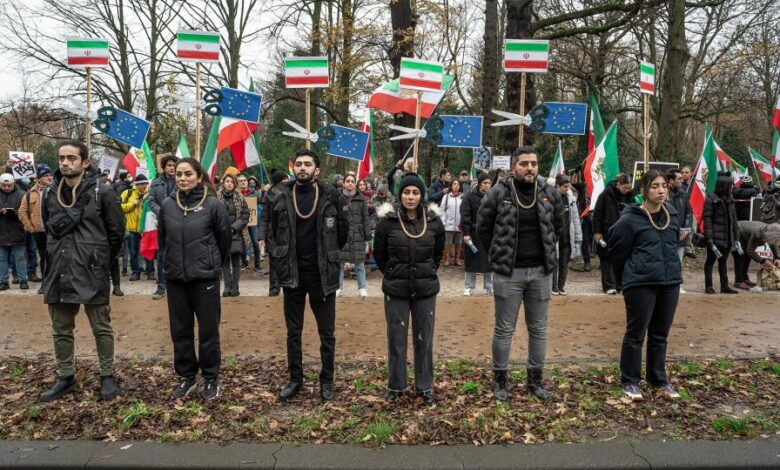 New York and Amman
CNN
 —  The Islamic Republic of Iran has long ranked among the world's top executioners. But with the recent death sentences handed down to protesters, critics say the regime has taken capital punishment to a new level.
Last weekend, Iran executed two more protesters charged with killing security personnel, causing an international outcry. Critics said that the executions were a result of hasty sham trials.
The regime executed 314 people in 2021, 20 percent more than the previous year, rights group Amnesty International said in a report from May 2022. Many of those had to do with drug-related crimes.
This year, a number of protesters are entangled in Iran's court system, many of whom face a particularly unjust judicial process, according to activists.
Human rights activists have warned there's a real risk that many of them could become another number in the growing list of those executed by the Islamic Republic. At least 43 people are currently facing execution in Iran, according to a CNN count, but activist group 1500Tasvir says the number could be as high as 100.
"Defendants are systematically deprived of access to lawyers of their choice during the trial, are subjected to tortured and coerced confessions and then rushed to the gallows," Tara Sepehri Far, an Iran researcher at Human Rights Watch, told CNN.
United Nations human rights chief Volker Türk on Tuesday accused Iran of "weaponizing" criminal procedures, saying it amounts to "state sanctioned killing"
With this round of protests, critics say, the authorities are using charges that carry the death penalty more liberally than they have before, widening the application of such laws to cover protesters.
According to Iranian state media, dozens of government agents, from security officials to officers of the basij paramilitary force, have been killed in the protests. Activist groups HRANA and Iran Human Rights say that 481 protesters have been killed.
Security personnel have died in previous protests as well, Sepehri Far said, "but it is crucial to point out in this (time) round Iranian authorities are using the death penalty way beyond (the) intentional killing of security officers."
The regime appears to have capitalized on the executions, using them as a deterrent to people eager to speak out and flood the streets, as was seen after the death of 22-year-old Mahsa Jina Amini in the custody of the nation's morality police.
"The trials and executions are yet another piece of the repression machine serving to demonstrate power and control and spread fear and publicize (the) government's narrative about protesters," Sepehri Far explained.
Iran has used Islamic Sharia law to prosecute protesters with crimes carrying the death penalty, namely "waging war against God" or "moharebeh" and "corruption on earth," according to the UN Office of Human Rights.
The process has been criticized within the country too.
Mohsen Borhani, a professor at Tehran University and an expert in Islamic jurisprudence, has also challenged the use of such religiously based charges against protesters. In a television debate last month, he argued that the protesters executed were charged with waging war against God when their role in the protests did not in fact merit such a charge.
The brandishing of weapons by protesters, he said, was meant to intimidate, not injure security personnel. "This is fundamentally out of the realm of moharebeh because the person's opposition is towards the government, not civilians."
Sepehri Far said that Mohsen Shekari, one of the first protesters to be executed, was accused of injuring an officer. "Others have received the death penalty for extremely vague charges such as destruction and arson of public property or using a weapon to spread terror," she said.
Activists say Iranian authorities have developed sophisticated methods of spreading disinformation on how, why and when executions will be carried out. Civil rights activist Atena Daemi said in a tweet, for example, that several Iranian news outlets had reported that activists on death row had been released, news that was refuted by the prisoners' families.
Activists have said that condemning the protests is not enough. The European Union has taken note, and as the bloc continues to discuss imposing a fourth round of sanctions on Iran, some members have supported moves to classify its Islamic Revolutionary Guard Corps (IRGC) as a terrorist organization.