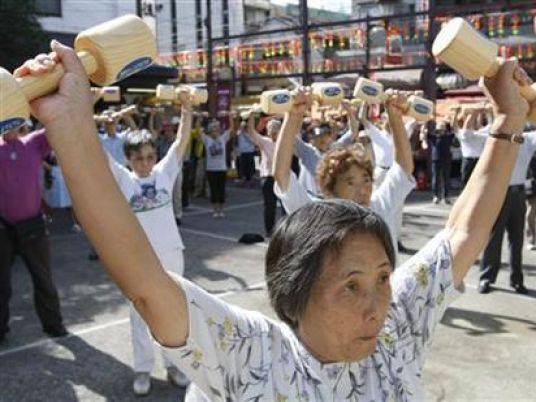 Elderly men who exercise regularly – even by doing light activities like walking – may be less likely to die than those who are sedentary, a large Norwegian study suggests.
Researchers followed about 5,700 men for about five decades, starting in the 1970s when they were 45 years old on average, to see how their exercise habits influenced longevity.
Men who got about 30 minutes of exercise six days a week appeared to reduce their risk of death by 40 percent.
The findings add to a growing body of evidence showing that exercise can help people live longer, Dr. I-Min Lee, a professor of medicine and epidemiology at Harvard University, said by email.
"We have clear data showing that the more energy is expended, the greater the reduction in mortality rates," said Lee, who wasn't involved in the study."
Exercise has many benefits, including weight reduction and improved cardiovascular health. Cardiovascular disease is the leading cause of mortality worldwide, accounting for at least 17 million deaths annually, while obesity kills at least 2.8 million people a year, according to estimates from the World Health Organization.
To follow the impact of exercise on longevity, the current study, co-authored by Ingar Holme, a sports medicine researcher at the Norwegian School of Sports Sciences in Oslo, looked at data collected in 1972 and 1973 for a group of about 16,000 men who were born between 1923 to 1932.
In 2000, men who participated in the first screening were invited to participate in a second round of evaluations. Then, researchers monitored the group through 2011 to see how many of them died of heart-related issues or from other causes.
Researchers surveyed men about their activity levels, ranging from sedentary if they spent most of their leisure time reading or watching television to vigorous if they participated in competitive sports several times a week. Walking or bicycling counted as light activity, while regular exercise for four hours each week was considered moderate activity in the study.
Less than one hour a week of light activity wasn't enough to reduce the odds of death, the study found.
But men who exercised intensely for less than an hour a week did see a benefit; they reduced their risk of death by 26 percent.
When men who were inactive in the 1970s later increased their activity, their risk of death was 44 percent lower than their peers who remained consistently inactive.
Only the healthiest men originally recruited to the study in the 1970s were still alive to participate in the follow-up decades later, the researchers acknowledge in the British Journal of Sports Medicine.
The study also relied on men to truthfully report their exercise habits, which generally leads people to overestimate their activity levels.
Elderly men who want to start exercising or step up their game might want to focus more on hours than intensity, said Peter Kokkinos, a cardiologist at Veterans Affairs Medical Center and Georgetown University School of Medicine in Washington, D.C.
"The emphasis should be placed on relatively longer exercise duration and moderate intensity, like a brisk walk, especially for older individuals," Kokkinos, who wasn't involved in the study, said by email. "This approach carries a lower risk of injury."