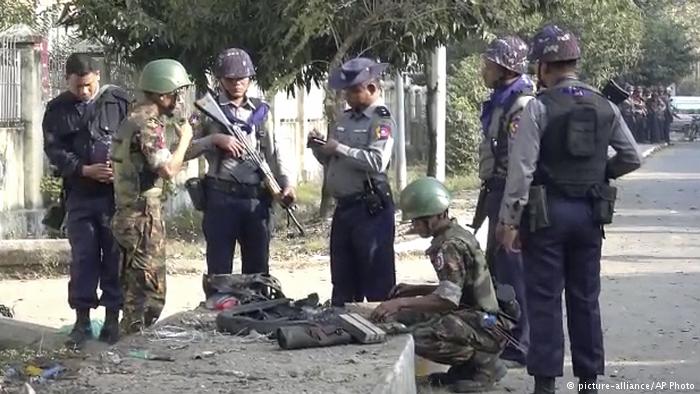 The bombs reportedly targeted government officials in Sittwe, the capital of Myanmar's Rakhine state. At least one person — a police officer — was wounded in the attack.
Security officials also seized three unexploded devices from different parts of the city.
"There were three bomb explosions around 4 a.m. local time (2130 UTC Friday), where one policeman was slightly injured. We are still investigating [the] crime scenes," police officer Aung Myat Moe said.
One of the Saturday blasts took place in front of a high-ranking government official's residence.
Tin Maung Swe, Rakhine's state secretary, told the Deutsche Presse-Agentur news agency that one explosion "was nearby my home," adding that the two other bombs targeted a school and a courthouse.
The blasts come only three days after a large bomb killed two bank employees and wounded two dozen other people in the northeastern city of Lashio.
Ongoing insurgency
Last year's violent attacks in Rakhine state by Rohingya insurgents sparked a massive military response that forced more than 600,000 Rohingya Muslims to flee to Bangladesh. Myanmar authorities now face accusations of severe human rights abuses during the operation, which security forces dub "clearance operations" in response to attacks by Muslim insurgents.
The United Nations said the military response was disproportionate and amounted to "ethnic cleansing."
Although no group has so far claimed responsibilty for Saturday bombings, the Arakan Rohingya Salvation Army has vowed to continue its "resistance" against Myanmar's government.
The Rohingya are an ethnic minority in Myanmar, which originates from the Indian sub-continent. For several centuries they have lived predominantly in Rakhine — also known as Arakan. They are predominately Muslim.
Viewed by the United Nations and the United States as one of the world's most persecuted minorities, thousands of Rohingya from Myanmar and Bangladesh flee their countries every year in a desperate attempt to reach the mainly Muslim-majority countries of Malaysia and Indonesia.