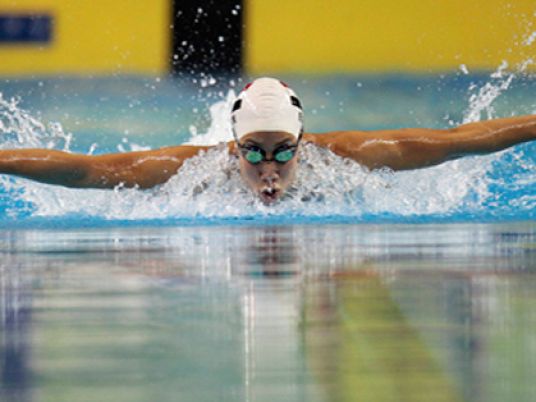 Early on Sunday, Egyptian sprint-swimming sensation, Farida Osman finished 12th in the semi-final heats for the women's 100m butterfly at the Rio De Janeiro Olympics Games, resulting in her failure to qualify for the final event.
The sting of Sunday's defeat is sure to be felt not only by the athlete herself — a favorite for the Brazil-hosted games — but by the extensive fan base who have pinned hopes for an Egyptian medal on Osman.
But all is not lost; set to compete in the 50-metre freestyle race next Friday, Egypt's star swimmer might just be in with a chance to redeem herself.
Trained at Cairo's El Gezira Sporting Club, the twenty-one-year-old's career is still in its early stages. But it is already proving to be a very prominent one, with the young sportswoman breaking records left, right and center. She is a student at the Universtiy of California, Berkeley and trains there alongside American Olympic swimmer, Dana Vollmer.
Sunday's result cannot blot out what has been a stellar season for Osman, with outstanding performances seen from her at several important competitions over the course of the year.
At the FINA World Championship in Kazan, Russia, last August, Osman achieved the best result in Egypt's sporting history when she finished 5th in the 50-metre butterfly final — a win that also made her the first Egyptian in history to qualify for the women's 50-metre butterfly final. Osman also competed at the FINA World Championships in 2011 and 2013, in Shanghai and Barcelona respectively.
In September of last year Osman competed at the All-Africa Games in Congo, where she followed her FINA success by taking home seven medals, five of which were gold; for the 50-metre freestyle, 100-metre freestyle, 50-metre butterfly and 100-metre butterfly races, as well as the 4×100-metre medley relay race.
Earlier this year, Osman participated in the Women's PAC-12 Swimming Championship, where she streaked ahead yet again and finished the 50-yard freestyle in 21.32 seconds, blowing previous records out of the water with the second fastest swim time in the race's history.
These are not Osman's first Olympic Games. She represented Egypt in the 2012 London Games where she qualified in the 50-metre freestyle — seemingly her forte — but finished in 41st place overall. Four years down the line, spectators have hoped for an impressive overall Olympic performance from the more seasoned, more decorated swimmer.
Out of the pool, Osman has become something of an icon of Egyptian swimming, owing in part to the fact that she is so young. But more significantly, the athlete has earned her iconic status due to being a relatively rare example of world-class female sportsmanship from the Arab World. At the Rio Olympics, for example, representation of Arab women is low, and only five African women have ever won an Olympic medal in swimming.
As Farida joins the squash player Nour El Sherbini on the list of young female world champions to represent Egypt this year, some believe the tide might be beginning to change on Egyptian, and Arab, women's participation in sport.
With the 50-meter heats still to go for the rapid freestyler in this Olympic Games, all eyes will be on Osman on Friday as she forges onwards in her own sporting career, and as a trailblazer in the history of Egyptian and Arab female sport.