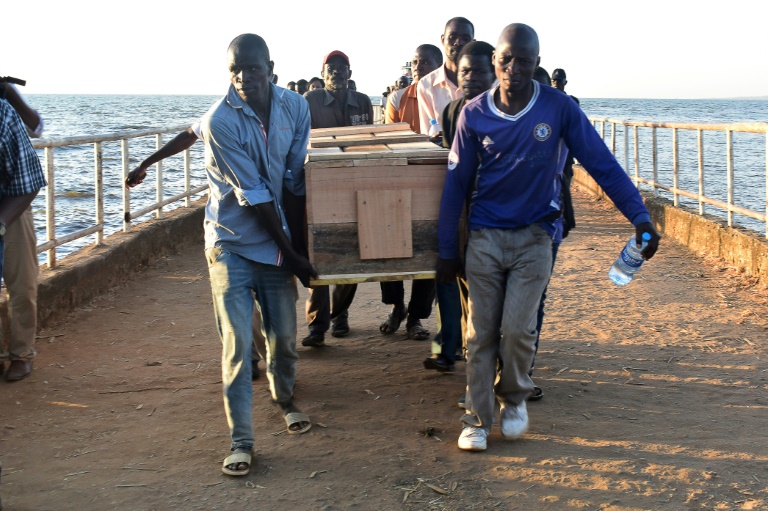 Grieving families were on Sunday preparing to bury victims of Tanzania's devastating ferry disaster, with more than 200 confirmed dead after the crowded boat capsized in Lake Victoria.
Hopes were fading of finding any more survivors three days after the ferry sank on Thursday, even after rescuers pulled out an engineer who had managed to find refuge in an air pocket in the upturned vessel.
"We are going to start burying bodies not yet identified by relatives," said John Mongella, governor of Mwanza region, where the MV Nyerere ferry had been coming in to dock on the island of Ukara.
"The (burial) ceremony will be overseen by Prime Minister Kassim Majaliwa, in the presence of clergy members of different denominations," Mongella said Saturday on TBC 1 public television.
Divers were also set to continue their grim search in the waters around the boat, where late Saturday they were watched by anxious crowds gathered just metres (yards) away on Ukara's shore.
Mongella said 218 people had been confirmed dead, while 41 escaped the tragedy with their lives — a total figure far above the official capacity of the boat, which was in theory only able to carry 101 passengers.
One survivor was an engineer who shut himself into a "special room" with enough air for him to stay alive until he was found, said local lawmaker Joseph Mkundi.
Transport Minister Isack Kamwelwe said on Saturday that 172 of the victim's bodies had been identified by relatives.
State television cited witnesses reporting that more than 200 people had boarded the ferry at Bugolora, a town on the larger Ukerewe Island. It was market day, which usually sees the vessel packed with people and goods.
Witnesses told AFP the ferry sank when passengers rushed to one side to disembark as it approached the dock. Others blamed the captain, saying he had made a brusque manoeuvre.
Grief and anger
Dozens of wooden coffins lined the shore on Saturday, waiting to be seen by families as police and volunteers sought to keep hundreds of curious locals at bay.
Aisha William came to collect the body of her husband. "He left on Tuesday around noon, but he never came home. I do not know how I am going to raise my two children," she said.
Ahmed Caleb, a 27-year-old trader, railed at a tragedy "which could have been prevented. I've lost my boss, friends, people I went to school with," he sighed.
The ageing vessel, whose hull and propellers were all that remained visible above water, was also carrying cargo, including sacks of maize, bananas and cement, when it capsized.
Tanzanian President John Magufuli on Friday ordered the arrest of the ferry's management and declared four days of national mourning.
In a speech broadcast on TBC 1, Magufuli said "it appears clear that the ferry was overloaded", adding that the government would cover the funeral expenses of the victims.
With a surface area of 70,000 square kilometres (27,000 square miles), oval-shaped Lake Victoria is roughly the size of Ireland and is shared by Tanzania, Uganda and Kenya.
It is not uncommon for ferries to capsize in the lake, and the number of fatalities is often high due to a shortage of life jackets and the fact that many people in the region cannot swim.