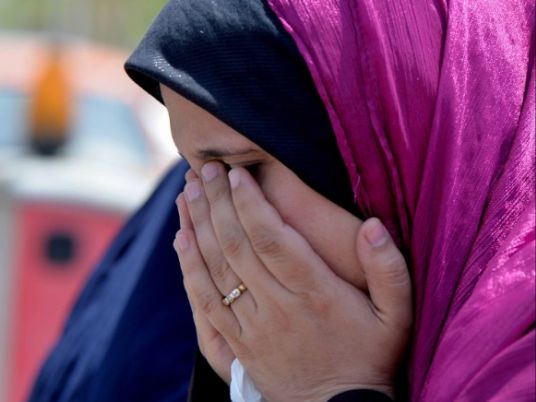 It's an all-too-familiar scene: the worry, the tears, the lack of information, the frustration, the anger.
Little is known so far about the fate of the passengers on the EgyptAir plane that disappeared early Thursday somewhere between Paris and Cairo.
More than 30 relatives of passengers on the plane arrived at Cairo International Airport to await word about EgyptAir Flight 804. They gathered at the EgyptAir In-Flight Center, where doctors and translators were available — but, they say, little information was given.
One man said he had four family members aboard the flight. But authorities attempted to shield relatives from the media, and talking to them directly was nearly impossible.
A priest, Father Athanious, found out about the crash from news organizations. At the airport, his worst fear was confirmed: His friend Amgad Adib was on board.
"He was like a brother and a son to me," the priest told journalists as he left the Cairo airport's special hall.
Adib was in his late 40s, a charitable businessman, the priest said.
Father Athanious said he learned on TV that debris was found. But an EgyptAir executive later said his earlier statement that the wreckage had been located was wrong.
"We learn from other countries what happened," one man screamed to journalists.
He was entering the hall dedicated to families with about six men late Thursday afternoon. The men were distraught. They didn't reveal the name of their loved ones believed to be on the plane. They said they were angry about the lack of information.
"My son," one of the men screamed, his tired voice preventing him from finishing the sentence.
Other people took to social media to express their grief, their worries and their hopes.
One man who called himself Mohamed Khalf asked for prayers.
"Kindly Pray for Egyptair Flight MS804 … I have a friend on that plane," the tweet said.
According to a list from EgyptAir, the 56 passengers included 30 Egyptians, 15 French nationals, one Briton, one Kuwaiti, one Saudi, one Chadian, one Portuguese from Algeria, and one Sudanese.
The government of Canada confirmed in a statement that two of its citizens were on the flight.
Some family members said the information to date has been far too sparse.
One family left the Cairo family holding room and complained, with anger and tears, there was no information about what had happened or who had been on the flight.
Meanwhile, British Foreign Secretary Philip Hammond tweeted his concern over a Briton aboard the plane. He did not name the person.
Australian Foreign Minister Julie Bishop issued a statement confirming that the Briton on board was a dual British-Australian national. "Out of respect for the man's family, the government will not provide more details at this stage," she said.