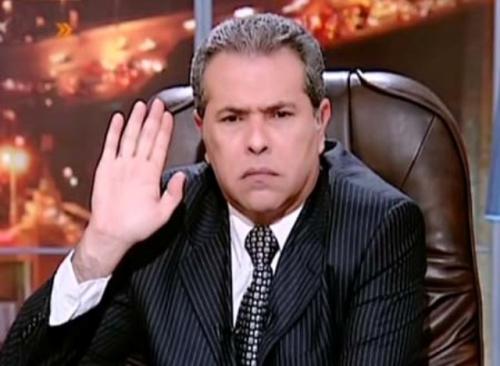 Al-Faraeen channel said Wednesday that it will freeze its activities and offer itself for sale after its chairman Tawfiq Okasha was stripped of his parliamentary membership for hosting the Israeli ambassador to Egypt at his home.
"Al-Faraeen is thankful to the great Egyptian people and its viewers in the Arab region. The channel announces it is stopping the airing of its programs permanently," said a statement screened on the channel. "The board has decided to liquidate the channel, freezing its activities and offering it up for sale. Sincerest thank you to President Abdel Fattah al-Sisi," the statement read.
Okasha invited outgoing Israeli ambassador Haim Koren for a dinner at his residence in Daqahlia last week, a step seen as a breach of a longtime popular and parliamentary boycott of Israel since the end of the 1973 war with Egypt and the signing of the peace treaty in 1979.
Videos circulated through social media featured Okasha appealing to colleagues outside the parliament's hall to help him get inside and so that he could give an apology.
Deputy parliament speaker Suleiman Wahdan told al-Assema channel late Wednesday that Okasha was voted out by 403 members for seeking to normalize relations with Israel, which, Wahdan said, made a large number of MPs request him to be stripped of "confidence" and "capacity" as a parliamentarian.
Mortada Mansour, another MP and chairman of Zamalek Sports Club, opposed the measure.
"As long as we have Camp David, it is nobody's business if he receives the ambassador," Mansour said, referring to the 1979 peace treaty. He stressed that Okasha should have been referred to the parliament's constitutional affairs panel to decide on his membership rather than have a special panel formed to decide on the matter.
"A membership is dropped only in two cases: insulting the president or the use of violence to interrupt sessions," Mansour said.
Okasha was specifically sacked from parliament for not asking for parliament's permission to meet with the ambassador, said parliamentary speaker Ali Abdelaal.
"Okasha has stamped upon all sanctities by meeting with the Israeli ambassador," he told al-Ghad channel. "Twelve members voted against dropping Okasha's membership, while nine withheld their vote…there shouldn't be anyone in the parliament backing normalization with the Israeli occupation."
Abdelaal clarified that the measure against Okasha should not serve as "a message to Israel or the international community."
Edited translation from Al-Masry Al-Youm