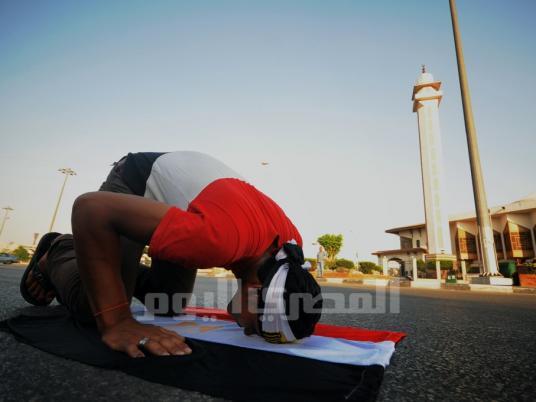 Five people were injured in a fire at the Cairo Governorate headquarters in Cairo's Abdeen neighborhood on Thursday morning, with investigators apparently suspecting arson. The fire adds to growing concerns that Egypt is witnessing a wave of arson attacks, although officials seem to be pointing to faulty wiring and other common causes in most cases.
Civil Protection Forces responded to a fire in a third-floor office in the headquarters of the Cairo Governorate's adminstration, evacuating personnel and putting out the blaze.
According to a Health Ministry statement, the fire spread to the fourth floor of the building, resulting in the injury of five people. Health Ministry Spokesperson Khaled Megahed said that three of the injured were treated at the scene, while two others were transferred to hospital. He said six ambulances were involved in the emergency response.
According Al-Ahram newspaper, two men have been arrested on suspicion of arson in connection with the blaze.
The fire in Cairo follows a number of smaller fires reported across Egypt in recent days, and a large conflagration in downtown Cairo on Monday that left around 90 injured and three dead.
The string of fires in close succession has lead some to speculate on an organized campaign of arson attacks. However, apart from the two arrests on Thursday, officials have made no mention of arson, pointing instead to electrical short-circuits.
Monday's fire gutted the Hotel Andalusia in Rowei Street, Attaba, also destroying a number of shops in the bustling market area. Health officials initially said that 77 people were injured, mostly from smoke inhalation, although the figure later climbed to 90. Three people were later reported dead.
However, according to a report in Al-Ahram, some shopkeepers said they were convinced that arsonists were responsible for the fires in their area. The same newspaper reported another fire on Tuesday in the historical Ghouriya neighbourhood. According to the report, nine shops were destroyed in the area, which is known for its textiles.
With attention turning to fires, Egyptian media outlets have reported a number of small fires in Cairo and across Egypt, with officials mostly identifying electrical wiring as the cause.
On Wednesday evening, a private car caught fire behind the High Court on Champollion Street in downtown Cairo. According to a statement from the Interior Ministry's Information Center, the cause was a short circuit in the car's engine. The statement said there were no casualties.
On Thursday morning, three fire trucks put out a fire in a building in Cairo's Darb al-Ahmar neighborhood, with no casualties reported. The fire started in a hut on the roof of the building, later spreading to the building itself, according to Gamal Halawa, director of Cairo Civil Protection Directorate.
Meanwhile, a fire was reported in Minya governorate on Thursday morning, again with no casualties. The blaze occurred on land belonging to a church, with a tent used for religious services catching fire. Civil Protection Forces responded and investigators suggested another electrical short circuit was responsible.
Edited translation from Al-Masry Al-Youm