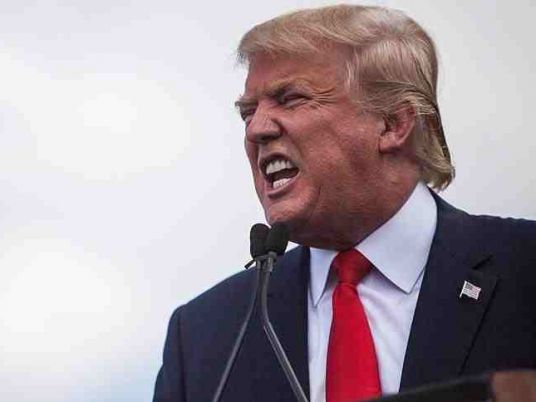 President Donald Trump on Tuesday moved to limit the damage from his summit with Vladimir Putin, claiming he misspoke in appearing to accept the Russian leader's denial of election meddling — in a rebuke to US intelligence chiefs.
At their meeting in Helsinki on Monday, Trump failed to challenge Putin over the 2016 presidential election, seeming to accept at face value the strongman's denial that Moscow interfered in a bid to undermine Democratic candidate Hillary Clinton.
But faced with outrage at home, with even some of his political allies demanding that he reverse course, Trump — in an extraordinary postscript to the summit — sought to walk back his remarks.
Trump said he accepted the intelligence community's assessment that Russia had meddled in the election, and offered a rambling explanation of his assertion that he could not see "any reason" why Russia would interfere.
"In a key sentence in my remarks, I said the word 'would' instead of 'wouldn't'," Trump said, speaking at the White House ahead of a meeting with Republican lawmakers.
"The sentence should have been, 'I don't see any reason why it wouldn't be Russia.' Sort of a double negative," he added — repeating the laborious clarification several times.
But while the US leader expressed his "full faith and support for America's great intelligence agencies," he insisted that "Russia's actions had no impact at all on the outcome of the election."
And he again floated the idea that "other people" could be involved.
Top Senate Democrat Chuck Schumer was quick to pounce.
"President Trump tried to squirm away from what he said yesterday. It's 24 hours too late, and in the wrong place," Schumer said.
'Undermine democracy'
Special Counsel Robert Mueller's investigation into Russian meddling and possible collusion with the Trump campaign has increasingly put pressure on the White House.
The president — who regards the probe as an attack on his legitimacy — has dubbed it a "witch hunt," and again said Tuesday there were "no collusion at all."
But the investigation is progressing, as evidenced by the indictment of 12 Russian military intelligence agents on Friday — timing that was embarrassing ahead of the summit with Putin.
Trump initially sounded a defensive note on Tuesday, insisting his meeting with Putin had been "even better" than his one last week with traditional allies NATO — a testy gathering seen as having badly strained trans-Atlantic ties.
But the US president found precious little support for his decision not to confront the Russian leader — on either side of the political aisle.
Former House speaker and longtime Trump ally Newt Gingrich put it bluntly.
"It is the most serious mistake of his presidency and must be corrected — immediately," he tweeted as Trump headed home.
By Tuesday afternoon when he faced the cameras, Trump had changed tack.
"We're doing everything in our power to prevent Russian interference in 2018," the president said.
After his remarks, the White House released a fact sheet on how the US is "standing up to Russia's malign activities" — a clear bid to counter the notion that Trump had been soft on Putin.
And on Tuesday evening, Trump was feisty on Twitter again as he defended his meeting with Putin and took aim at one of his favorite targets.
"The meeting between President Putin and myself was a great success, except in the Fake News Media!" Trump wrote.
Former president Barack Obama appeared to allude to his successor in a speech in South Africa on Tuesday, blasting "strongman politics" — without naming Trump.
While Trump was not entirely without defenders, the bipartisan consensus was broadly hostile to his stance in Helsinki — as the top Republican in Congress, House Speaker Paul Ryan made clear at a press conference Tuesday on Capitol Hill.
"We stand by our NATO allies and all those countries who are facing Russian aggression," Ryan said. "Vladimir Putin does not share our interests, Vladimir Putin does not share our values."
"We just conducted a year-long investigation into Russia's interference in our elections. They did interfere in our elections. It's really clear," he said.