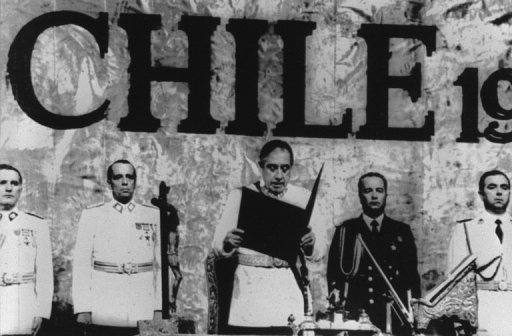 A weekend ceremony honoring the late dictator Augusto Pinochet has triggered a firestorm of controversy, pitting the right to free speech against relatives of regime victims who would like to see the event banned.
Some 4,000 supporters of the general are expected at a Sunday screening of a new pro-Pinochet documentary at Teatro Caupolican in Santiago celebrating his 1973-1990 military dictatorship.
"Pinochet" examines the political circumstances that preceded the US-supported coup against then-socialist president Salvador Allende on 11 September 11 1973.
The documentary "shows the truth about Chile," said Juan Gonzalez, who leads the pro-Pinochet September 11 Corporation, a group that includes former military officers.
Pinochet "restored peace and freedom, and defeated terrorism" in the country, he claimed.
More than 3,200 people were killed or disappeared during Pinochet's rule, and researchers have documented some 37,000 cases of torture and illegal detention.
Pinochet died in 2006, aged 91. He was never sentenced for rights abuses during his regime.
Soon after Gonzalez announced the event, Pinochet opponents swarmed online social media with calls for protests.
A group representing relatives of disappeared prisoners quickly filed a legal case to stop the celebrations, calling instead for an apology.
"In any other country in the world, anyone who excuses or claims responsibility for acts of genocide or state-sponsored terrorism can be sent to prison," said Lorena Pizarro, president of the Association of Relatives of Detained and Disappeared (AFDD).
A Santiago court on Friday turned down the request, arguing that it will take place in a private venue. "Once again the courts are on the side of those who violate human rights," a bitter Pizarro told reporters.
"An event like this could not take place in Germany, for example, where tributes to Hitler are banned," said Manuel Delano, a professor of communications at the Adolfo Ibanez University.
"Legally, we can hold these events in Chile, even if that should not be the case morally," he said, adding that the celebrations would "rub salt in the wounds of the victims."
The tribute is an extraordinary event in Chile, where more than 350 cases of disappearances, torture, illegal detention and conspiracy under the dictatorship remain open.
A spokesman for Sebastian Pinera, Chile's first right-wing president since Pinochet left office, tried to remain impartial when asked for an opinion.
"We do not favor, nor collaborate, nor participate … in such tributes," said Pinera's spokesman Andres Chadwick. But "the government respects it obviously, as it is legal," he said.
The previous president, Michelle Bachelet, was tortured during the Pinochet years and spent years living abroad. Her father, an Air Force officer loyal to Allende, died after he was tortured during the early days of the regime.
Freedom of speech advocates believe that, regardless of the raw emotions likely to be stirred up, events like these should proceed.
"The state is obliged to take the necessary measures to guarantee this fundamental right to freedom of expression," Jose Miguel Vivanco, the Chilean-born director of Human Rights Watch's Americas division, told ADN radio.
Banning the event "would amount to a contradiction for the civil movement fighting for human rights and liberties but also denying the right of Pinochet supporters to express themselves," said sociologist Eugenio Tironi.
"Society must fight its own demons, and not hide skeletons in the closet," he said.
Rights groups have vowed to protest outside the theater, located blocks away from the presidential palace. The government said that police will be deployed to the area on Sunday.