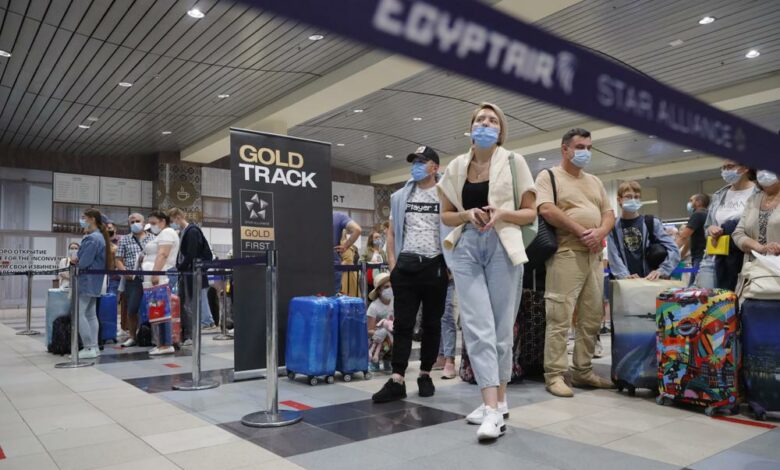 On Tuesday, Sharm el-Sheikh Airport received its first EgyptAir flight from Moscow in six years, the airline announced in a statement.
The flight comes after the Russian government gave the green light to EgyptAir and other airlines to operate flights between Russia and Egypt's Red Sea resort towns.
Under the same agreement, a flight from the Russian capital landed in Hurghada early Monday morning.
Sharm el-Sheikh International Airport received the first EgyptAir flight of the Airbus 330/300 model coming from Domodedovo Airport in Moscow, with 297 tourists on board.
The plane was given a water salute and greeted by Airport Director Nabil al-Mallah, along with a group of tourism officials. 
The airport's public relations team handed out roses, chocolate, souvenirs to the passengers, amid coronavirus precautionary and preventive measures.
EgyptAir is scheduled to operate three flights per week to Sharm el-Sheikh every Tuesday, Thursday, and Saturday.
The Airbus A330-300 model can accommodate up to 301 passengers and comes with flat bed seats in business class and personal screens in all seats. 
Moscow had suspended flights to and from the Red Sea resort towns after an Airbus-321 belonging to a Russian airline was shot down over the Sinai Peninsula by terrorists at the end of October 2015, killing all 224 people on board.
__
IMAGE: Russian tourists gather at the Egyptair check-in desk at the Domodedovo International Airport outside Moscow, Russia, Monday, August 9, 2021.