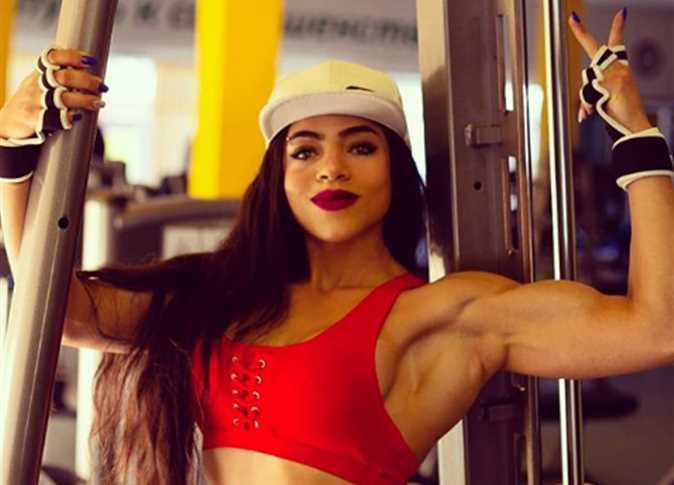 "You have muscles like a boy's" was a usual sentence received by Egyptian champion bodybuilder Dina Abdel-Maksoud, the 20-year-old engineering student who won first place and the gold trophy in Ukraine's bodybuilding championship.
Abdel-Maksoud is also classified as "the first Egyptian girl to practice bodybuilding abroad, specifically in the Ukrainian Union."
Many years ago, Dina, from Port Said, wanted to build a strong body like the bodybuilders she saw while walking with her father to the gym, but she was always criticized and faced sarcastic comments for that wish. She turned to her dream of weightlifting and strict dieting, then searched for a coach.
Dina did not find a bodybuilder coach for women, so she traveled to Ukraine. "Our society is oriental and fears breaking customs and traditions. They see the girl who lifts weights as a mannish woman. I travelled because women are afraid of practicing the sport in Egypt; they tell her you look like a man."
During a phone-in with Kol Youm talk show on "On E" channel, she said, "I traveled, played and became a professional in Ukraine. My parents supported me financially to work there. I wish I were in my country and represented my country. My family helped me to travel, but there are others who don't have the money to do that."
In Ukraine, Dina is studying engineering in addition to practicing bodybuilding. She has also received several sports certificates, including ISSA and UBPF, which are certified training and nutrition certificates from the Ukrainian Bodybuilding Federation. She has also participated in many world championships.
Dina hopes to return to Egypt again, despite achieving successes abroad. "I wish to return to Egypt, and God willing I'll try to return soon, and I'll try to help women achieve their dreams and practice bodybuilding without fear," she said.
Edited translation from Al-Masry Al-Youm