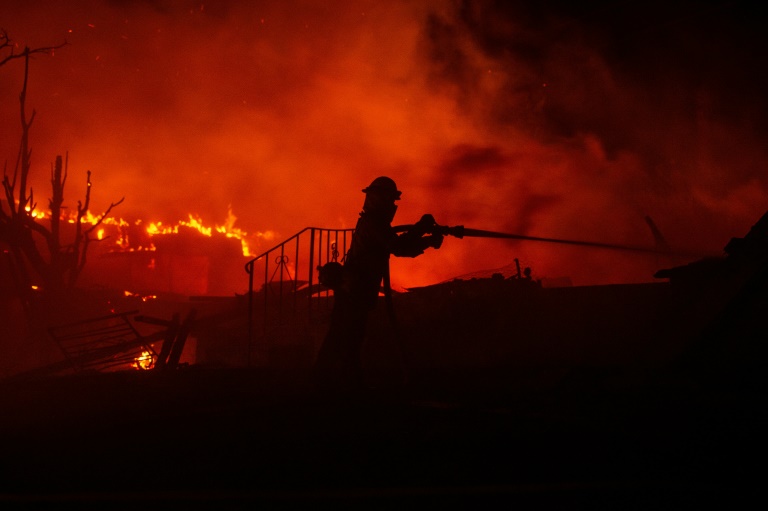 Egypt's first all-female firefighting team made history on Sunday when they joined the country's Civil Protection Authority, as part of events organized by Egypt's Interior Ministry in celebration of World Civil Defense Day.
The celebrations were held at the headquarters of the Civil Protection Authority on Cairo-Suez road, in the presence of a number of leading officials from Egypt's security sector. 
Led by Captain Manar Diab, the all-female firefighting squad showed high-level skill in putting out fires during demonstrations as part of World Civil Defense Day, while bomb squads showed attendees how security forces deal with threats of explosives. 
Major General Hany Gerges, Assistant Interior Minister, said that the ministry's strategy, under the supervision of Major General Mahmoud Tawfiq, aims to improve security and emergency response services and ensure public safety, especially with regard to the implementation of major national projects.
He expressed confidence in the political leadership and the government, highlighting the efforts made by the armed forces and the police to protect public safety and boost security across the country. 
For his part, Director of the Civil Protection Authority Mohamed Gabr said that the authority had addressed about 6,000 emergency calls during 2019, praising Egypt's policemen for honorably serving their country. 
At the end of the celebration, the Ministry honored a number of former minister assistants, distinguished police officers, injured civil protection workers, and the families of police officers and others killed in the line of duty. 
Women are the main breadwinners of 14 percent of Egyptian families, according to statement from Rania Al-Mashat, Egypt Minister of International Cooperation. However, statistics released by the Central Agency for Public Mobilization and Statistics (CAPMAS) in 2019 show that labor force participation for Egyptian women aged 15 to 65 stands at only 22.9 percent.
In June 2018, Egypt's Ministry of Interior deployed the largest number of female police officers that it had ever dispatched as part of efforts to improve security and curb sexual harassment during the Eid al-Fitr holiday.
Women were allowed to join the Egyptian Police College for the first time in 1984, but the college stopped accepting women just six years later in light of low interest and the perception that women are ill-suited for police work. Women with university degrees in relevant fields are able to enter the Police College's Faculty of Specialized Officers, however.
Edited translation from Al-Masry Al-Youm