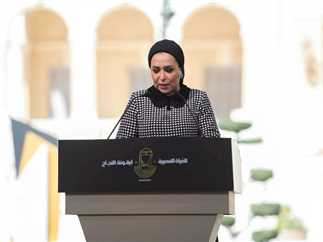 Egypt's first lady Intissar al-Sisi, the wife of the President Abdel Fattah al-Sisi, praised Egyptian women during International Women's Day.

On her official account on Facebook, Sisi wrote: "On International Women's Day, I salute all the women of Egypt with a greeting of pride and appreciation. Throughout history, the Egyptian woman has been the maker of the glory of the nation, which derives its greatness from her genius, as a loving mother, a faithful wife, a virtuous sister, and a daughter that fills life with joy and happiness."
"A salute to the great women and girls of Egypt, for with them and their sacrifices, the great Egypt will always live," she added.
International Women's Day 2022 comes on the eighth of March of each year.
It demonstrates the world's respect and appreciation for the role of women and mothers in society.
After the convening of the first conference of the Women's International Democratic Federation (WIDF), which was held in Paris in 1945, this occasion is celebrated all over the world.
WIDF consists of the auxiliary organizations of the communist parties, and it was the first global celebration of International Women's Day.
Some researchers believe that International Women's Day was the result of some women's strikes that took place in America.