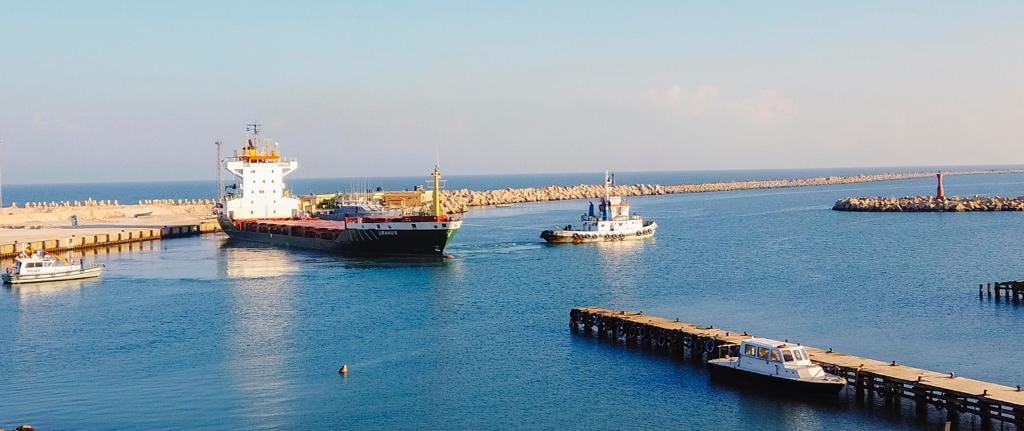 Egyptian President Abdel Fattah al-Sisi spoke about the development of the port of Arish, the first phase of which is expected to be inaugurated in 2023.
After its development, the Egyptian army was able to send aid ships to Syria and Turkey,  reported RT. 
"We can say today that there will be a large size of land capable of entering production by the end of this year in Sinai," commenting: "Our plan is not a modest plan," Sisi said during an inspection tour of the line-up of equipment taking part in the development and reconstruction plan of Sinai.
"Many people are surprised that we are expanding the port of Arish," he said, explaining: "Today we are building a global port in this place, totally different from the previous one."
"We are talking about a giant port that can accommodate for all products, whether mining or agricultural products," he said.
The port received the first warship of the Egyptian army that shipped humanitarian aid to Turkey and Syria.
Arish port is also the closest sea point to the two countries.
The port is the closest to the road and tunnel network, which contributed to facilitating the transportation of aid.
During the trial operation, the port of Arish will receive a number of ships in the coming days until its official opening.
It is expected that the work plan for developing the port of Arish will be completed during the first quarter of 2024.
The development plan includes the implementation of marine piers, breakwaters, trading yards, internal roads and the raising of the efficiency of buildings, fences and port gates, with investments equivalent to LE3 billion.
Arish port is one of the most important ports that play a vital role in the transport flow.
This is due to its strategic location on the Mediterranean Sea, in addition to being part of the ports of the Suez Canal Economic Zone.
It is also integrated with the industrial zones, which facilitate the movement of import and export of goods for investors.
Israeli media has said that the port will provide a great advantage for trade due to its strategic location.
The Egyptian port will be a strong competitor to Israeli ports adjacent to the Mediterranean.
Israeli news website Port to Port, which specializes in transportation and communications, quoted Walid Gamal Eddin, head of the General Authority for Suez Canal Economic Zone, as saying in press statements that the first phase of the development will be concluded by the end of 2023.