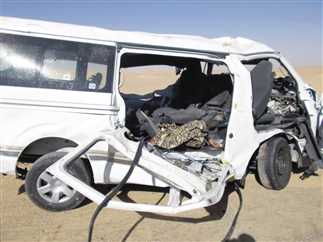 Five people were killed and 20 others were injured Tuesday in a microbus accident on the Matrouh – Alexandria Coastal Road.
The Directorate of Health in Matrouh Governorate received a report from al-Dabaa Central Hospital stating that it received the bodies of five people between 15 and 40 years-old. The hospital also received 20 injured in the same accident, in front of the Galala village, which is affiliated to the center and city of Dabaa, and the injured are under observation at the hospital.
Police filed a case with the accident, and referred it to the Public Prosecution, which has requested criminal investigations by the Matrouh Security Directorate on the circumstances of the accident.
The annual report of the Central Agency for Public Mobilization and Statistics (CAPMAS) released in 2020 said that traffic accidents in Egypt rose by 17.8 percent in 2019, with 9,992 car accidents compared to 8,480 in 2018.
The agency added that the number of car accident deaths rose to 3,484 in 2019 – an increase of 12.9 percent. The rate of car accidents increased to 27.4 accidents per day in 2019, it said.
CAPMAS attributed the main cause of car accidents to human error at 79.7 percent of the total road accident causes in 2019, followed by technical vehicle defects at 13.5 percent.