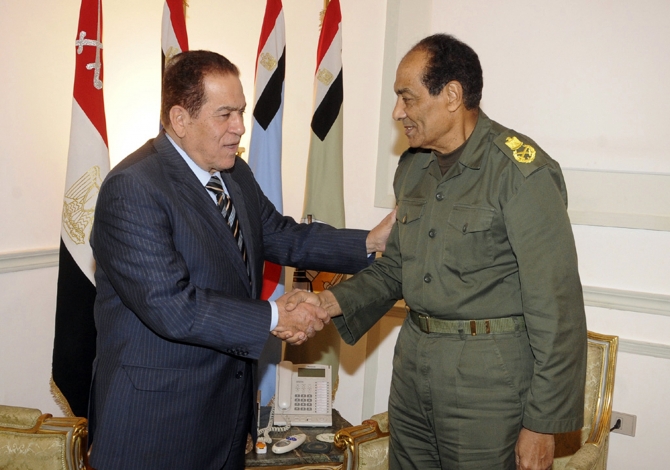 The parliamentary bloc of the Freedom and Justice Party agreed to stop the escalation against Egypt's military rulers after the latter promised a limited cabinet reshuffle, Al-Masry Al-Youm reported on Monday.
The paper added that the parliamentary bloc also approved not including ministers from the Muslim Brotherhood in the new government.
"We were studying means of escalation against the government," said bloc member Gomaa al-Badri. "But we approved the reshuffle as the rest of the government is leaving soon anyway."
On Sunday, the Brotherhood said the Supreme Council of the Armed Forces planned a cabinet shuffle to defuse a political feud before the presidential elections. The Brotherhood has been pushing for more influence in the government for months, since they entered Parliament with the largest bloc in February.
Saad al-Husseini, member of the party's executive bureau, said that the SCAF has responded to the will of the people and the parliament of the revolution by agreeing to a reshuffle, according to Al-Masry Al-Youm.
On the possibility of holding demonstrations if the reshuffle did not take place, Husseini said the SCAF will follow through. "They called us," he said.
Saber Abdel Sadeq, a member of the party's executive bureau, said the reshuffle should include the ministries of foreign affairs, transport, petroleum, supply and manpower for the many crises they caused and failed to resolve.
"The Brotherhood does not want to be part of a transitional government, though this might make some claim we evade responsibility," he said.
Bloc member Hatem Abdel Azim said the reshuffle should include the service ministries. "We will not be part of it so as to keep our impartiality in the presidential election," he said.
Since being appointed by the army in November, Prime Minister Kamal al-Ganzouri has struggled to build momentum for reforms and mend the economy.
On Sunday, the Freedom and Justice Party-led Parliament suspended meetings for a week, saying the SCAF had ignored their demands for a cabinet that is reflective of the makeup of Parliament.
Edited translation from Al-Masry Al-Youm