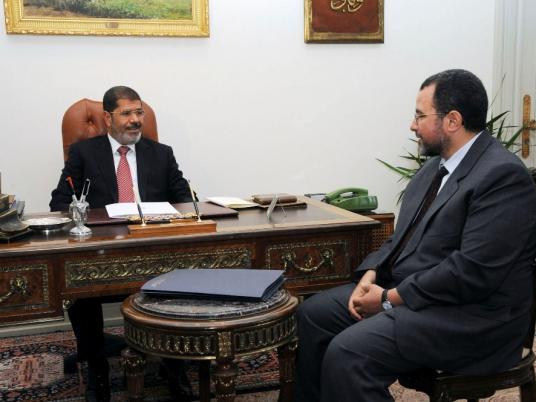 The Muslim Brotherhood's Freedom and Justice Party is negotiating a cabinet reshuffle with the National Salvation Front, sources from both groups said Wednesday.
Negotiations are focused on forming an efficient, neutral cabinet headed by an independent figure and also revolve around key points including the dismissal of the country's top prosecutor and the drafting of a parliamentary elections law that ensures integrity, the sources said.
However, administration spokesperson Ehab Fahmy denied any reshuffle is underway, saying, "Reports about changing the Cabinet are not true."
According to an FJP source, the opposition coalition National Salvation Front nominated Arab League Secretary General Nabil al-Araby for prime minister. Araby, meanwhile, reportedly said in an interview with Al-Hayat channel program Al-Mawdoua that he was offered the post but refused. The interview is scheduled to be aired Thursday evening.
Many supported former Prime Minister Kamal al-Ganzouri for the post and discussed the idea with him on phone, sources added.
Freedom and Justice leader Osma Suleiman said: "The FJP and the Muslim Brotherhood will not put conditions or red lines, and they do not mind changing the Cabinet in the event that all political factions agree."
A National Salvation Front leader said, on condition of anonymity that "Changing the Cabinet without its [current] head will not lead to any breakthrough in the political crisis …"
The source said European Union Foreign Affairs chief Catherine Ashton had listened to the demands of NSF representatives and conveyed her support to President Mohamed Morsy, but Morsy did not give a definitive answer.
FJP spokesperson Mohamed Zidan anticipated a "real national dialogue" would soon begin.
Another party source said President Morsy had commissioned FJP head Mohamed Saad Katatny to contact opposition leaders.
"We have not contacted each other, but I am welcoming such a move as we do not reject dialogue," NSF leader and Congress Party head Amr Moussa told Al-Masry Al-Youm Wednesday.
Popular Current Party leader Hamdeen Sabbahi has also received no communication or official invitation from the administration for a new national dialogue, said party board member Azazi Ali Azazi.
Edited translation from Al-Masry Al-Youm