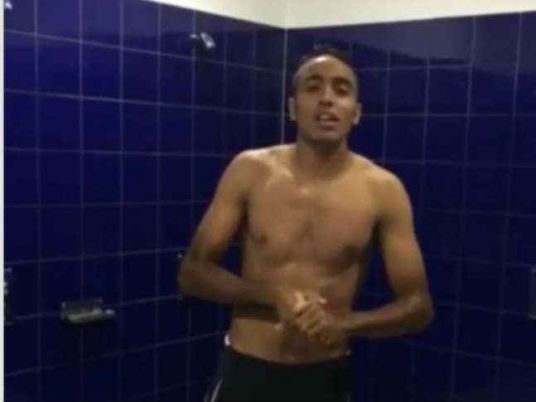 Football player Mahmoud Abdel Moneim, who is known as Kahraba and plays for Grasshoppers FC, has accepted the ice challenge from his Israeli colleague Moanes Dabours.
The challenge first started in the US in 2013, aimed at collecting donations for cancer patients. However, golfer Chris Kennedy challenged his cousin whose husband suffered from brain disease.
She posted a video on Facebook and challenged another person, which made the idea go viral.
Kahraba also recommended Amr Zaki, Ibrahim Saeed and Ahmed al-Mohamady for the challenge.
Several public figures have taken part in the challenge and paid US$100 for charity organizations.
Participants included the well-known TV host and producer Oprah Winfrey, Britney Spears, Shakira, Miley Cyrus, Lady Gaga, Justin Beiber, Jennifer Lopez, Taylor Swift, Selena Gomez, Russell Crowe, Ashton Kutcher and Facebook founder Mark Zuckerberg who accepted challenging Microsoft founder Bill Gates.
Edited translation from Al-Masry Al-Youm