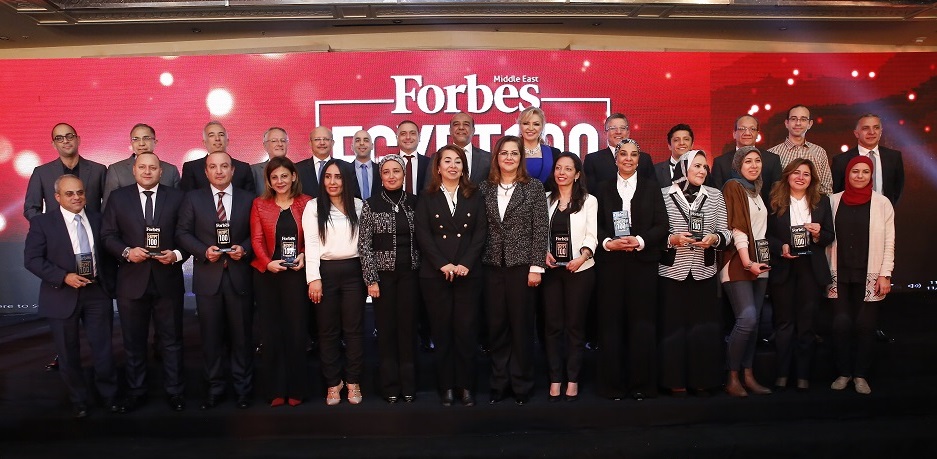 Gathered in the luxurious setting of the Nile Ritz-Carlton Hotel sat some of the most brilliant minds in Egypt; upon entering the room, one can sense the electric flow of innovative ideas being exchanged. These people felt at home, and together they were unstoppable.
Celebrating its 100-year anniversary, Forbes Magazine, which has been at the forefront of international business for decades, hosted a major event in Cairo's Nile Ritz-Carlton. In a celebration matching the magnitude of the magazine and its achievements, 'Forbes 100' honored the individuals and organizations with the greatest impact in economic development and business.
Forbes focused its span of recognition to the top 50 companies, as well as the 25 most influential businesswomen and the 25 most prominent young companies.
Attending the event were some elite governmental figures from Egypt, including the Minister of Social Solidarity, Ghada Wali, and the Minister of Investment and International Cooperation, Sahar Nasr, who were both honored by Forbes as two of the 25 most influential businesswomen.
Wali was full of praise for Forbes 100, "I think this is a very important event. The ministry of social solidarity cares about being there for young creative Egyptians. To see them being recognized by Forbes gives us great pleasure."
With the high presence of internationally-recognized innovative minds, strong-willed discussions were a-plenty. One which stood out occurred between Ahmed Al-Sweedi, an engineer and General Manager for Sweedi Electic; Ayman Ismail, Founder and CEO of Mountain View; Hussein Saleh, the CFO of the 'E3lam Al Masryeen' group; Ahmed Al-Beheiry, CFO of Al Masria Lel Itisalat (Egyptian Communication); and Omar Maghawry, CFO of FIB Capital, a leading investment corporation. Together they delved into a discussion about current investment opportunities in Egypt, and unpicked the biggest economic challenges. They put their minds together and thought of ways to make Egypt more attractive for both national and international investors. Finally, they wrapped up the discussion discussing the current market, offering predictions of potential future changes.
As for recognition, there was much to be given. 'International Trade Bank' came out on top of 50 publicly traded Egyptian companies, with 'Global Telecom Holding' coming in second place. Meanwhile, 'Vezeeta', 'Edfa3ly', and 'Wuzzuf' were among those to be recognized among the top 25 young companies.
The Nile Ritz-Carlton stage served as a platform, and stepping upon it were exciting innovators who may go down in history as great men and women.
Moreover, the event recognized some of the best young Egyptian minds, who displayed amazing potential.
With his curly hair and a great sense of humor, Ahmed Negm stood out during the ceremony. Beyond his charisma, as the founder of 'Raye7', or 'Going', a first-of-its-kind carpooling app, Negm stood out for being the youngest person to be recognized in the conference. He had a lot to say about how his company's presence in the event represents a shift in Egyptian thinking.
"CO2 emissions are a very big problem. More and more people are starting sustainability initiatives for growth in their companies. They're depending more and more on solar energy."
This is where Negm's company plays a role. Raye7 is a community-based carpooling mobile app which aims to connect people travelling in the same direction. It targets companies who want to transfer their employees in a safer and more environmentally-friendly way.
"A lot of companies are beginning to realize effect of CO2 emissions, plus they want to present a service to the community and their workers, who usually arrive pretty tired from driving. This initiative targets companies, governments, and the community."
To the young entrepreneur, this event represents more than just recognition for his startup, "This recognition is very important because startups, not just us, need recognition. There are startups that solve employment issues, others solving education issues, we also need these companies to partner with startups to provide resources to solve problems."
In the same way the event celebrated and encouraged young entrepreneurs like Negm, it also recognized the people who have been long in the business, honoring the top 100 companies in Egypt.
Hany Barzy, CEO of Edita for Food Industries, one of the recognized companies, expressed gratitude, "The recognition shows appreciation to our work as we have contributed to the Egyptian economy in the past few years, not just to me but for the workers as well."
"It's a wonderful opportunity especially coming from an organization as big as Forbes. So when they choose: it's not random, they choose the best after thorough studies on the competitors."
Barzy also thought the recognition praised more than just individual companies, but it also spoke highly of the economic progress Egypt has made as a whole.
"Egypt is a huge market, and Forbes naturally has its eye on Egypt, especially that it's measuring its latest economic measures as they were well planned and well-executed."
"So it's curious," Barzy continued, "to see how they will affect Egypt, especially since we are recovering from an unstable market, and now on its way to being a stable market – before growing."
Barzy reflected on major developments in Egypt's recent history and continued to express gratitude for Forbes' recognition: "It's very important for Forbes to capture this development. Two revolutions of course were a shock to the economy then our reform program with the IMF that was rigorous and affected the people and production."
However, Bazry remains hopeful, "We are now starting to reap the gains. We are seeing a growing economy and a recovering tourism industry, as well as job opportunities; all these are good factors for Forbes."
Tarek Farag, a representative of Manchester Business School – which sponsors the event – thinks the event is very important to improve Egypt's reputation as a potential investment destination.
"[An event like this] excites the country itself and provides visibility for the world to see its performance and how Egypt is a country moving forward, and showing potential in the near future."
"It shows the mind of this country and its people's potential, and as a place for investment."
But in order for Egypt to truly develop, Wali, who was recognized among the 25 top businesswomen, believes in the importance on relying on the brilliant minds that were recognized at the event.
"We definitely aim for further cooperation with these young talents. Their expertise will be relied upon to move the country forward."
Ending on an exciting prospect demonstrating her eagerness for inclusivity, she remarked, "We already have plans to call upon them in future projects and meetings."