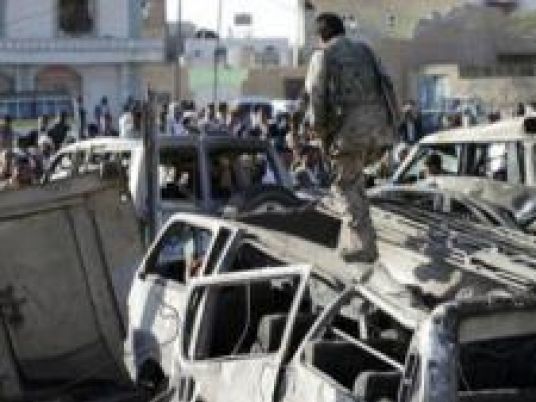 A set of "urgent recommendations" on speeding up the procedures of returning willing Egyptian nationals in the restive Yemen were reached, Egypt's foreign ministry said on Wednesday.
The recommendations will be raised to the Egyptian cabinet during its weekly meeting today, the ministry said in a statement but did not say what they are.
They are for "immediate" implementation and will see the return of willing Egyptian nationals, whether by "sea, land or air."
The number of Egyptians in Yemen is between 6,000 and 7,000 workers, according to government figures.
Egypt is part of a Saudi-led coalition which launched military operations against the Houthis in Yemen last week, after the Shia rebel movement made advances onto the Yemeni south.
The coalition says its operations come in response to a request by Yemeni President Abd-Rabbu Mansour Hadi, who called for an Arab intervention in his country.
The ministry said some Egyptians in the conflict-torn country crossed into Oman on Tuesday and were taken to an airport ahead of flying back to Egypt.
Amid security concerns, Egypt started coordinating with Saudi Arabia and Oman earlier this week for the return of Egyptians wishing to leave Yemen through land crossings.
The recommendations reached today come after a meeting of a committee of officials representing all state bodies following up on the state of Egyptians in Yemen, including Foreign Minister Sameh Shukri and the Egyptian ambassador to Yemen, who has returned to Egypt.
The committee is in permanent session and is in contact with Egyptians wishing to leave the Yemen to inform them of preparations they should take for the evacuation.