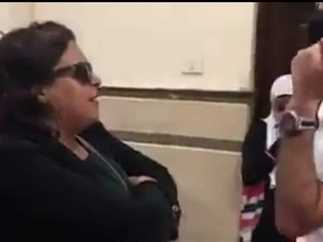 On Thursday, Nozha Misdemeanor Court, headed by Judge Amr Mukhtar, acquitted Chancellor Noha al-Imam al-Sheikh, a former administrative prosecutor, of assaulting a police officer at Cairo's Heliopolis Court.
Sheikh was absent from all trial sessions until the verdict hearing, the victim officer Walid Assal was absent from the verdict hearing on Thursday.
The court had previously ordered in November that Sheikh be brought before the forensic doctors to examine her mental health.
Sheikh's lawyer said that his client was in self-defense after the officer took away her mobile phone, adding that her medical file had caused her to be referred to a pension in addition to being subjected to severe pressure at the court.
The incident occurred on August 30, when Assal asked Sheikh to put on a facemask, reveal her identity, and stop filming the court building's interior with her phone.
"I work with the UN, you trash," Sheikh replied. After the officer confiscated her phone, she then ripped off his shoulder badge. A video of the incident taped by a witness went viral across social media.