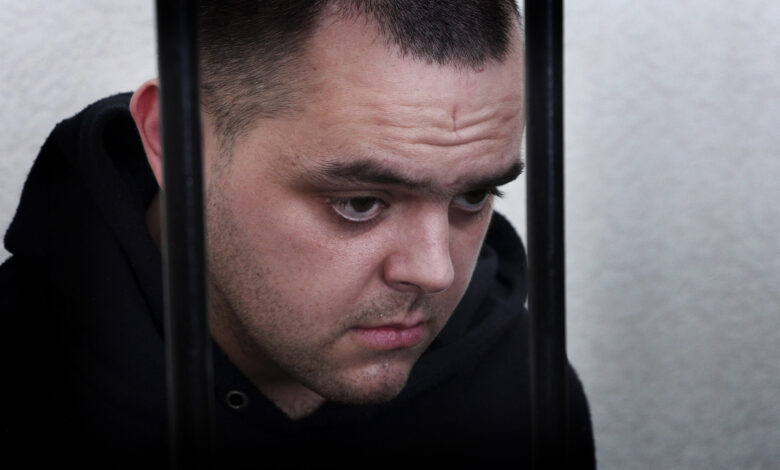 A British man released last week after being previously held by Russian-backed forces in Ukraine says he was "treated worse than a dog" by his captors.
In an interview with the UK's Sun newspaper, Aiden Aslin described being held in a small cell with three other men, being subjected to regular beatings from his captors, and struggling to be given adequate food and water.
"We also had to sing the Russian national anthem every morning," Aslin recalled. "And if you didn't sing it, you would get punished for it. You could get beaten, or they would punish you some way or another."
A court in the self-proclaimed Donetsk People's Republic (DPR) sentenced Aslin and two other foreign fighters to death on June 9. They were found guilty of being "mercenaries" for Ukraine by a court in the DPR, Russian state media reported at the time.
Aslin told The Sun that when he first revealed that he was a British citizen, one of his captors "beat me pretty good – probably the best I've ever been beaten."
"He got down on his knees and he was smoking his cigarette," Aslin added. "And he was like, 'Do you know who I am?' And I was like, 'No.' And he says, 'I am your death,' basically, in Russian."
"He then asked me, 'Do you want a quick death or do you want a beautiful death.' I said, 'A quick death.' And he says, 'No. You're going to have a beautiful death. And I'm going to make sure it's a beautiful death.'"
Russia is the only country that considers the DPR independent. The international community does not recognize the region and its institutions, and considers the territory to be part of Ukraine. Independent watchdog groups have long accused the separatists of a dismal human-rights track record and ill-treatment of prisoners.