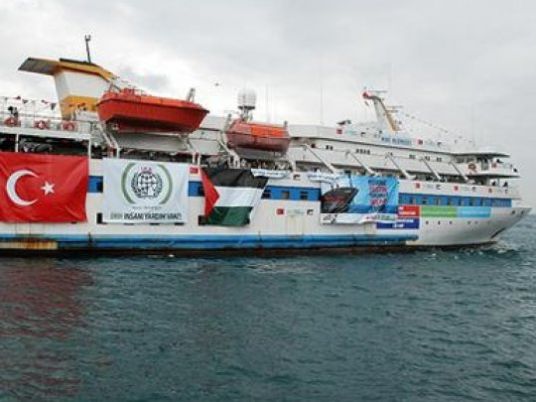 The family of a victim of the 2010 Israeli raid on the Mavi Marmara aid flotilla has sued former Israeli Prime Minister Ehud Barak for his role in the deadly attack, a team of attorneys said Wednesday.
The complaint, which was filed October 16 in a California federal court, alleges that Barak directly participated in the planning and execution of the raid that resulted in the death of nine Turkish nationals as well as a 19-year-old American of Turkish origin, Furkan Dogan.
The lawsuit was brought by Dogan's family, who said Barak "failed to prevent or punish the violations of international law committed during the IDF [Israel Defense Forces] operation and ratified the unlawful conduct".
Barak, who was defense minister at the time of the May 31, 2010 attack, was served with the legal papers on Tuesday after he delivered a speech in Thousand Oaks, California, according to a press statement released by the attorneys.
He oversaw the Israeli army raid on the Mavi Marmara, which was part of the Gaza Freedom Flotilla, carrying humanitarian aid and construction materials for Palestinians in the Gaza Strip, which was and continues to be under an Israeli blockade.
"Barak participated in the planning, execution, and oversight of the IDF operation, and was responsible for ordering, aiding and abetting, and exercising command responsibility over the operation that resulted in the torture and extrajudicial killing of Furkan Dogan," read the complaint.
"The acts and omissions of Defendant Barak was deliberate, willful, intentional, wanton, malicious and oppressive and should be punished by an award of punitive damages in an amount to be determined at trial," it added.
Dogan was filming the operation when he was attacked and shot five times, including once at point blank range in the head.
"On board the Mavi Marmara, Israeli forces extinguished the life of a 19-year-old boy holding a video camera," Hakan Camuz, representative of Dogan's family, said in a press release. "He was shot five times. The last shot was to his head at point blank range. He deserves justice."
Dan Stormer, a Los Angeles attorney whose firm filed the lawsuit, said Barak is a "war criminal" and he should be held accountable for his actions.
"Now, for the first time in five years, one of the perpetrators of the Mavi Marmara massacre has been served," Stormer said. "It's time for that responsibility to mean more than lip service."