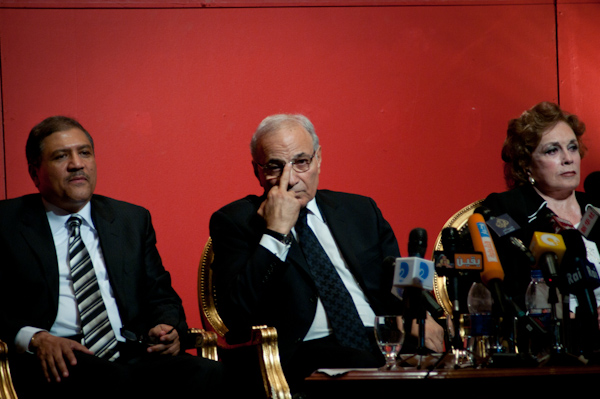 Former Prime Minister Ahmed Shafiq has said he was not astonished by the prosecutor general's decision to refer him to criminal court on corruption allegations.
"On the contrary, I would [be surprised] if it did not happen, especially given the imbalanced conduct by people who are ignorant about what government is. I have become accustomed to facing lawsuits all the time,"Shafiq told privately owned al-Youm satellite channel late Tuesday.
Judicial sources said Tuesday that prosecutors had filed new charges against Shafiq regarding alleged illegal land deals made in 2005.
Prosecutor General Talaat Abdallah also ordered the International Cooperation Office to contact Interpol to issue an arrest warrant for Shafiq, who is wanted on charges of squandering LE30 million in public funds from the Pilots Association and laundering another LE5 million, Reuters reported.
Addressing the Muslim Brotherhood, the former presidential candidate, who served as minister under President Hosni Mubarak, urged the group to give more attention to the country's problems instead of "preoccupation with Ahmed Shafiq."
Shafiq came in second in the 2012 presidential elections that put Muslim Brotherhood leader Mohamed Morsy in office. After narrowly winning the election, Morsy said he resigned all his leadership roles within the group and its political party as promised during his campaign.
"The Brotherhood came out of prisons and became the rulers of the country," Shafiq said. "Your punishment will be tough … you shall regret your actions."
Commenting on the government's request to Interpol, Shafiq, who fled to the United Arab Emirates following last year's election, said he would consult lawyers but was not concerned.
Judge Osama al-Saeedi, an investigator tasked by the Justice Ministry to probe Shafiq's case, had referred the former air force chief and 10 others to a criminal court over their involvement in selling lands owned by a junior pilots association for preferential prices to Mubarak's sons, Alaa and Gamal Mubarak. The suspects face charges of squandering public funds, forgery, profiteering, and money laundering.