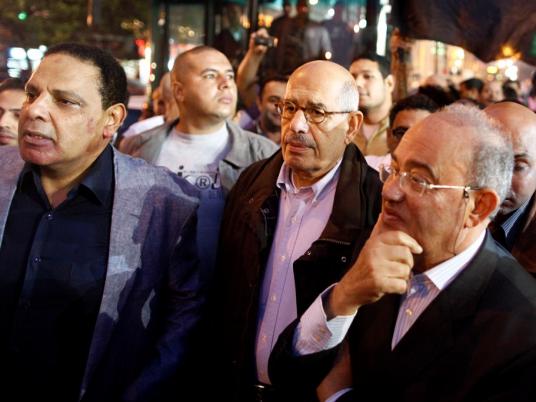 Former Vice President Mahmoud Mekky said Tuesday that eight representative of the National Salvation Front (NSF) will participate in the next round of the national dialogue.
Presidential spokesperson Yasser Ali had said earlier that the seventh round of the dialogue is set for 9 January, and will discuss amendments to provisions of the new constitution proposed by various political parties, movements, public figures, unions, associations and universities. The discussions are set to be a prelude to a document that will be presented to the president, who will then forward it to the incoming parliament for discussion in its first session.
Saturday is the deadline for accepting suggestions for changes, Ali added.
The NSF announced Monday its readiness for dialogue with the presidency.
"We assured the mediation committee [formed by the presidency] that we are ready for dialogue with the presidency immediately to set rules and an agenda. We submitted names of [our] representatives and informed the mediators as well as Mekky, who said he would respond to the request. However, we have received no response so far," NSF member Wahid Abdel Meguid said.
Mekky said he will voluntarily moderate the dialogue, even though he resigned from his post in December, in a bid to reach a genuine reconciliation between all political forces. "I feel it is a fruitful dialogue," he said. "We would not have come up with the elections law without it."
"I will continue to invite all forces boycotting the dialogue," he added, and "we took their remarks into consideration even though they did not attend."
President Mohamed Morsy's controversial constitutional declaration, through which he claimed sweeping powers, spurring mass protests and violent confrontations, was later revoked. The NSF itself was born out of a complete rejection of Morsy's decisions, and united opposition and civil forces under one entity.
Mekky says the cancellation of the declaration was achieved through the dialogue, "something blood could not have done."
The NSF had not participated in these talks, and had continued its protests even after the declaration was cancelled, in protest of the rushed approval of the draft constitution as well as the snap referendum announced by Morsy.
"We also agreed to suggestions for the Shura Council appointments," he added.
Edited translation from Al-Masry Al-Youm