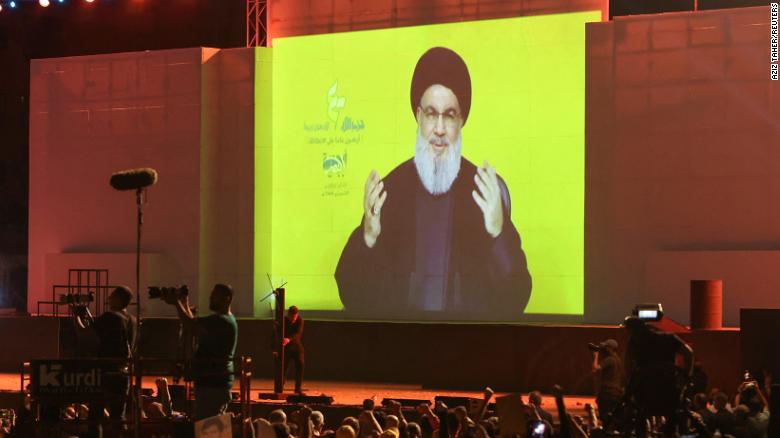 Abu Dhabi, UAE (CNN) – Hezbollah capped off the 40th anniversary of its founding on Monday with large-scale celebrations on a stage in southern Beirut that featured holograms of fighters killed in battle, and videos showing off the group's historic confrontation with Israel. An interpretive dance, depicting how the group freed prisoners from ISIS in Syria, was a notable addition.
Over the years, the Lebanese Shiite group has tried to rebrand itself from a paramilitary organization backed by Iran to a serious political and regional player. Forty years on, Hezbollah is militarily more powerful than ever, but also more globally isolated than it has ever been.
Many countries including the United States, United Kingdom and Germany as well as Gulf Arab states and the Arab League, have labeled the entire group a terrorist organization, while the European Union and France consider only Hezbollah's military wing as such. Hassan Nasrallah, the group's leader, is considered a specially designated global terrorist by the United States and subject to American sanctions as a result.
The movement first emerged in 1982 as a response to Israel's invasion of Beirut during Lebanon's bloody civil war. The Israelis met their objective of expelling Palestinian fighters from the country, but catalyzed a more formidable enemy in Hezbollah as a result. Iran's new regime found the group to be an apt ally, both because of their shared Shiite ideology and because of Hezbollah's position in the heart of the Arab world. It began providing the group with funding and training soon after it emerged.
Since then, Hezbollah has expanded and flexed its military might. In 2000, Israeli forces withdrew from southern Lebanon after a protracted conflict with the group there. In 2006, it held its ground in a war against Israel when Israel sought to disarm it. During Syria's civil war, it successfully intervened on behalf of President Bashar al-Assad and helped bolster his defenses after the dictator violently quashed a popular uprising. The group's political influence appeared to be on a relentless rise, despite a domestic bid — backed by Saudi Arabia — to curb its power that was rapidly extending beyond Lebanon.
Opinions at home are divided, where 52% of Lebanese do not believe that Hezbollah promotes the country's stability, according to a 2021 Zogby poll, while the rest believe it still does. The sectarian breakdowns are starker. Eighty percent of Shia have confidence that Hezbollah benefits Lebanon's stability, as do majorities of Druze (64%) and Christians (56%); while no Sunni respondents expressed such sentiment, according to the poll.
Nasrallah was once considered a hero by Arabs for confronting Israel, but Shibley Telhami, a professor at the University of Maryland who has conducted extensive polling of the Arab world says, "public attitudes towards Hezbollah among Arabs may have been impacted by the Arab Spring uprisings, the Syrian war, sectarian tensions in Lebanon and Iranian-Arab rivalries."
"On an official level, Hezbollah is a resistance movement; however, its role has evolved beyond [Lebanon] as it morphed into a regional player," said Mohanad Hage Ali, a fellow at the Carnegie Middle East Center in Beirut. "To call Hezbollah a resistance movement is inaccurate."
Hezbollah has transformed into a major player in the Lebanese political scene. Opponents label it as a shadowy state within a state, led by Hassan Nasrallah since his ascension to secretary-general in 1992. A fiery and charismatic leader, Nasrallah has rarely appeared in public since the 2006 war with Israel, apparently for fear of assassination. At the group's anniversary rally this week, he made his commemorative speech via video.
The 2006 war with Israel was instigated by a cross-border raid by Hezbollah in which it killed eight Israeli soldiers and kidnapped two. Nearly 121 Israeli troops and 49 Israeli civilians were killed. About 270 Hezbollah fighters, 50 Lebanese soldiers and police died. Some 1,200 people in Lebanon, mostly civilians, were killed in the Israeli assault.
"Hezbollah has always had an interest in a weak and obedient Lebanese military. Whether Lebanon is safer because of Hezbollah's actions is highly debatable," Emile Hokayem, Senior Fellow for Middle East Security at the International Institute for Strategic Studies, told CNN. "On one level, Hezbollah has established a level of deterrence against Israel. On the other, Lebanon is objectively weaker, isolated, economically despondent, politically in disarray."
For Israel, the Shiite group's advanced weaponry poses a bigger threat than that of other Iran-backed Palestinian groups operating in Gaza.
Over the past decade, Hezbollah has played an increasingly active role in the region including Iraq and Yemen. The group's most significant foreign military commitment has been in Syria where thousands of fighters have been deployed to defend the Assad regime.
"Hezbollah played a central role in the Syrian conflict, as it engaged in direct action, and reversed the opposition's gains," said Ali. "However, their interventions in Iraq and Yemen are more on the political and logistical side, specifically training and political facilitation."
Nasrallah regularly uses inflammatory language against Gulf Arab states, particularly Saudi Arabia.
"Hezbollah has poisoned Lebanese relations with the Gulf states, which have been crucial economic lifelines for the Lebanese diaspora and state," said Hokyem. "In Riyadh, Abu Dhabi and elsewhere, Lebanon is seen as a threat, too weak to constrain its main political party from endangering their security."
Hundreds of thousands of Lebanese work in the oil-rich Gulf Arab states, sending billions in hard currency back home. Inward remittances account for 54% of Lebanon's economy, according to the World Bank.
But the group now appears to be softening its tone towards the Gulf. Nasrallah in his recent 40th anniversary speech said, "we don't have a problem with Lebanon's relations with Arab countries and especially the Gulf countries, and for these relations to evolve and strengthen."
"Now as Iran is about to return to the [nuclear deal] and resume diplomatic relations with the Gulf states, Hezbollah should logically follow suit, and de-escalate its rhetoric," Ali said.