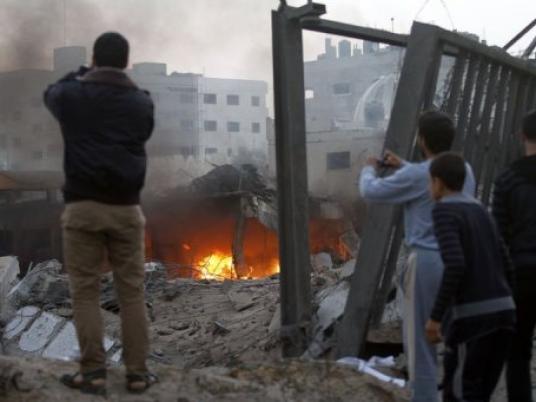 Israeli shelling in the Gaza Strip injured four Egyptians who had been en route to join an Egyptian delegation there to voice solidarity with Palestinians against Israeli military attacks, the German news agency DPA reported.
The four who were injured were young Socialist Popular Alliance Party members who left for Gaza Saturday.
The stadium where they stayed upon arriving was hit by Israeli warplanes. The four sustained minor injuries, and were treated at Shifa hospital in Gaza.
The death toll in an Israeli air campaign against militants in Gaza rose to 90 Monday, with hundreds injured — many of them children. The operation began with the targeted killing of Hamas military chief Ahmed al-Jabari Wednesday. More than 500 rockets have been fired from the strip into Israel, resulting in three deaths.
A convoy of 800 Egyptian activists earlier Monday returned to the Rafah border from Gaza following a visit that lasted couple of hours.

The convoy arrived in Gaza Sunday at midnight, visiting Shifa hospital, where they visited with and helped receive Gaza residents wounded during the Israeli attacks on the strip.
The Palestinian health minister welcomed the convoy, expressing gratitude for their visit.
The convoy also visited Hamas government buildings that were hit by Israel, as well as the home of one of the victims. However, they were forced to return to the crossing before dawn upon request by Hamas, due to the shelling and difficulty of securing the convoy.
The convoy included activists and public figures such as blogger Nawara Negm, poet Tamim al-Barghouti and activist Ahmed Douma.
A committee that included several doctors presided over by Gamal Abdel Salam, head of the Arab Doctors Union Emergency Relief Committee, is working on procedures to get humanitarian and medical aid into Gaza through Rafah.
Edited translation from Al-Masry Al-Youm