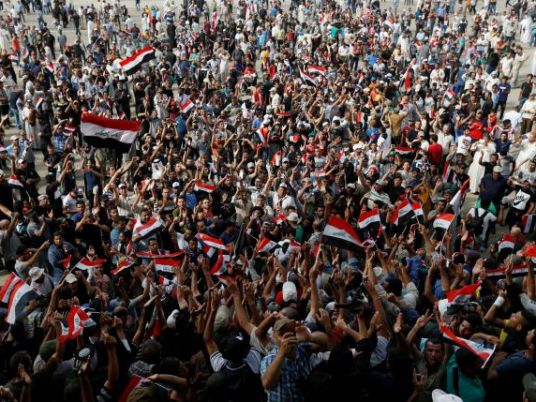 At least four people were killed and 90 injured among anti-corruption protesters who stormed Baghdad's heavily fortified Green Zone on Friday, hospital sources said on Saturday.
Iraqi security forces used live and rubber bullets as well as tear gas to dislodge the protesters from the district that houses government buildings, parliament and embassies.
The toll, compiled from four hospitals where casualties were taken as well as Baghdad's central morgue, accounts for bullet wounds only, not cases of suffocation caused by tear gas.
The disturbance was the second breach of the Green Zone in less than a month.
Protesters included supporters of powerful Shi'ite Muslim cleric Moqtada al-Sadr and people from other groups upset with the government's failure to approve anti-corruption reforms and improve security against bombings by Islamic State militants.
The government briefly imposed a curfew on Baghdad on Friday and authorities later said that order had returned after what they called rioting at the Green Zone.
Prime Minister Haider al-Abadi, in a late-night speech, condemned the Green Zone breach and warned against chaos and strife: "The law must take its course with every transgressor."
Sadr expressed support for what he called a "peaceful spontaneous revolt" and condemned the government for "killing its children in cold blood".