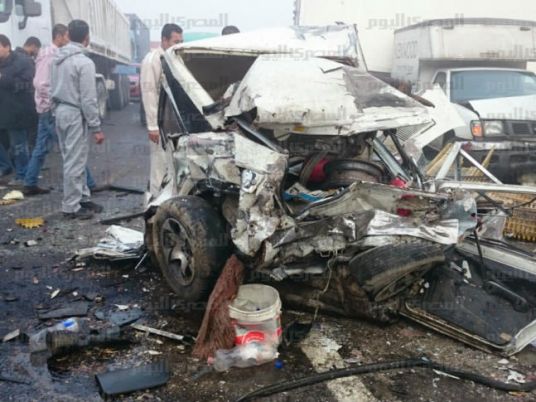 Four young men died on Wednesday following a collision between a pickup truck and a "trocycle" (a three-wheeled hauling vehicle) in the Gerza junction area, located between Egypt's Beni Suef and Giza Governorates.
The victims were Hamada Khamis Ahmed Sayed, 20, Hamada Abdel Salam Shaaban, 30, Gomaa Shaaban Mohamed Abdel Hafez, 38, and his brother Azam, 35. All of them lived in the village of Haram Maydum village near the city of al-Wasta.
The four men's bodies were transferred to the morgue of Al-Wasta Central Hospital.
Chief of the Beni Suef Security Directorate Zakaria Saleh received news of the accident from the hospital. Police filed a report and notified the Public Prosecution Office.
Egypt's Central Agency for Public Mobilization and Statistics (CAPMAS) has reported a decrease in the rate of car accidents due to road improvements across the country.
The agency said that accidents in 2018 left 3,087 people dead, 11,803 injured and 13,441 vehicles damaged.
Human error was the main cause of accidents, accounting for 76.8 percent of total accidents in 2018, followed by vehicular malfunction, accounting for 15.7 percent, and environmental conditions, which accounted for 2.7 percent.