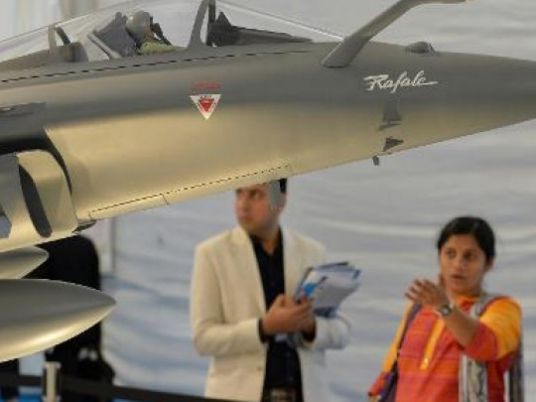 France's defense minister will visit New Delhi this week in a fresh bid to nail a troubled deal to sell 126 Rafale fighter jets which has been snagged for three years and now faces new questions about its cost.
Jean-Yves Le Drian will meet his counterpart Manohar Parrikar and other officials on Monday and Tuesday to prevent the sale's collapse ahead of an upcoming visit to Paris by India's Prime Minister Narendra Modi.
French company Dassault Aviation won the right in January 2012 to enter exclusive negotiations with India to supply 126 Rafale fighters, with experts saying a final deal could be worth US$12 billion.
The idea is for Dassault to supply 18 of the twin-engine fighters later this year while the remaining 108 would be made by state-run Hindustan Aeronautics Ltd under technology transfer agreements with India.
But negotiations have proved fraught, both under Modi's government and its Congress predecessor, while a committee which is looking into the deal has reportedly found that it was not the cheapest option.
France's defense ministry has said the visit will give the governments a chance to discuss "international affairs and defense industry issues", but there is little doubt Rafale will dominate proceedings.
Le Drian's visit comes barely two months after he also came to India for talks with Parrikar when they both agreed to push on with negotiations.
Modi's right-wing government, which won power in elections last May, has been blowing hot and cold about the progress of discussions.
A defense ministry spokesman said during Le Drian's visit in December that outstanding differences "would be resolved in a fast-track manner".
Doubts over costs
But the government has also commissioned a report about the project costs, adding yet more uncertainty.
Speaking at an air show in Bangalore last week, Parrikar said he expected the contract negotiation committee (CNC) to submit its report within weeks.
"I have asked the CNC to speed up the process of completion of the report for us to take a decision on the acquisition of Rafale," he told reporters.
India's Business Standard newspaper reported earlier this month that the committee had found the Rafale proposal was in fact more expensive than a rival one by Eurofighter for its Typhoon jets.
The paper quoted defense ministry sources as saying the Rafale deal was "effectively dead" although the Indian top brass is still publicly backing it.
If the deal were to collapse, it would be a huge embarrassment for the French government, which is preparing to welcome Modi for his first visit to Europe as premier in April.
Dassault was able to celebrate the signing of a purchase agreement with Egypt last Monday for 24 Rafales, the first foreign sale of the fighters.
While the company's chief executive Eric Trappier has acknowledged the Indian negotiations have taken longer than expected, he told France's Les Echos financial daily recently that "we are not particularly worried".
One of the main sticking points has been over who should carry the can for any problems with the 108 planes that would be made in India, with the government in Delhi wanting guarantees from Dassault.
Dassault however has baulked at the idea of taking responsibility for the larger Indian-made batch of fighters.
India, which has long been the world's largest buyer of defense equipment, is in the midst of a multi-billion-dollar upgrade of ageing hardware, and recently lifted a cap on foreign investment in defense.
While his government has pledged to push forward with purchases which stalled under Congress, Modi wants to end India's status as the world's number one defense importer and to have 70 percent of hardware manufactured domestically by the turn of the decade.
With clouds hanging over the Rafale deal, there have been reports India could instead buy more Russian-made Sukhoi jets.
But the head of the Indian air force said that the Sukhois had different capabilities and could not be seen as a like-for-like replacement, as he called for the Rafale deal to be expedited.
"Rafale has been selected as L1 (lowest bidder)," Arup Raha said in Bangalore.
"It is important that we have the MMRCA (Rafale) and we need to have it in the quickest possible time."
Raha insisted no alternative plan was being considered at the moment but did not rule one out for the future.
"No, we don't have a Plan B as of now. We are only working on Plan A," he said.