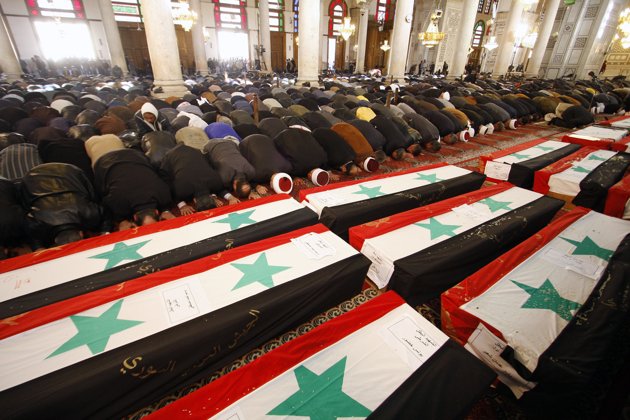 French President Francois Hollande urged Europe's leaders on Thursday to lift an arms embargo on Syria to help rebels battling for nearly two years to overthrow President Bashar al-Assad's regime.
He spoke as London and Paris sought jointly to lift the embargo to enable them to arm the rebels, angering Damascus but drawing a cautious welcome from the opposition.
Arriving in Brussels for a two-day summit with EU leaders, Hollande told journalists: "We want Europeans to lift the arms embargo."
"We are ready to support the rebellion, so we are ready to go this far. We must take our responsibilities."
Opposition activists have called on London and Paris to provide heavy weaponry to tilt the balance in the two-year uprising.
Assad's government, like its key foreign ally Russia, said any such arms shipments would be a "flagrant violation" of international law.
Earlier, French Foreign Minister Laurent Fabius told France Info radio that Britain and France will ask "the Europeans now to lift the embargo so that the resistance fighters have the possibility of defending themselves."
Assad's government was receiving weapons from Iran and Russia which gave it an edge over the opposition, Fabius said.
He said Paris and London would press for quick new EU talks on the arms embargo, which was extended on 28 February for three months by EU foreign ministers, although such sanctions are constantly reviewed.
Fabius said the two governments were ready to go ahead with arms deliveries even without the support of their partners.
Hollande said France "must convince its European partners" to tip the balance by ending the embargo, although the issue was not on the agenda for the Brussels summit.
"We cannot allow a people to be massacred by a regime that for now does not want a political transition," he said.
At the February talks, ministers agreed to ease the embargo to enable any EU state to provide non-lethal aid or training to the insurgents. Britain quickly pledged armoured vehicles and protective clothing for the opposition.
When the Syria issue came up again at foreign ministers' talks on Monday, there were wide divisions, with many EU governments warning that supplying arms to the opposition would lead to an increase in violence.
Syria's main opposition bloc, the National Coalition, welcomed Fabius's comments, saying that Western arms deliveries were essential to the success of the uprising.
"We consider it a step in the right direction … Assad will not accept a political solution until he realises he is faced with a force that will defeat him," coalition spokesperson Walid al-Bunni told AFP.
"As long as the Europeans and the Americans do not arm the rebels, they are telling Assad to keep fighting," he said.
Syria's official SANA news agency reported that "in a flagrant violation of the principles of international law … Fabius has announced Paris and London's intention to provide weapons to terrorist groups in Syria."
Activists on the ground said it was vital that London and Paris provide the right sort of weaponry.
"The key question is what kind of weapons would France and Britain provide. We need heavy weapons, especially anti-tank and anti-aircraft weapons," said Ahmad al-Khatib, spokesman for the Syrian Revolution General Commission.
French officials said Paris was considering providing the rebels with ground-to-air missiles.
Doha-based analyst Salman Sheikh said the readiness of Britain and France to arm the rebels was "hugely significant."
"I think it shows the chapter of the last two years is certainly closed and now these countries are … looking to put in measures that actually are going to be much more effective on the ground."
The United Nations says at least 70,000 people have been killed in Syria since the uprising erupted in mid-March 2011.
Regime warplanes bombarded rebel positions across Syria on Thursday, a day on which violence cost at least 133 lives, almost equally divided between civilians, rebels and soldiers, the Syrian Observatory for Human Rights said.
Meanwhile, the UN's World Food Programme said the challenge of feeding millions of people in war-ravaged Syria has escalated as funds dry up.
It issued an urgent appeal for US$156 million in funding to meet plans to reach 2.5 million people inside Syria and more than one million refugees in neighbouring countries until June.