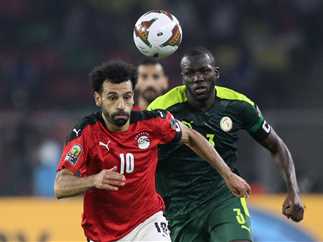 The Egyptian national team, led by Portuguese Carlos Queiroz, is preparing to face Senegal on Tuesday at 7:00 Cairo local time in the play-off phase of the African qualifiers for the 2022 World Cup.
The Confederation of African Football has set the dates of the African qualifiers for the 2022 World Cup and the stadiums that will host them: stressing that all return matches will take place on Tuesday, March 29.
The first leg match between Egypt and Senegal was held at Cairo Stadium, and ended with the victory of the Egyptian team with a clean goal.
Tuesday's match between Egypt and Senegal, which is the return match, will be held at the new Diamandio Stadium, and it will start at seven in Cairo local time.
The Egyptian On Time Sports channels announced earlier that it will broadcast the matches of Egypt and Senegal in the World Cup qualifiers.
Ontime Sport channel frequency
ON TIME SPORTS
Digital broadcasting: UHF32
Nile Sat
Frequency: 11861, Polarization: vertical, Symbol rate: 27500.
Commenting on the match between Egypt and Senegal
ON Time Sports 1 HD
Medhat Shalaby
SSC3 HD
Samir Al-Maarfi
ON Time Sports 2 HD
Ayman al-Kashef
The second leg will be played at Diaminito Stadium, which is located 30 kilometers from the Senegalese capital, Dakar.
The Portuguese coach, Carlos Queiroz, announced the Egyptian national team's list for the two matches against Senegal.
The official list of Egypt's national team against Senegal is as follows:
Goalkeepers: Mohamed El-Shennawy, Mohamed Abu Gabal and Mohamed Sobhi.
Defense line: Omar Gaber, Omar Kamal, Mohamed Abdel-Moneim, Mahmoud Hamdi el-Wensh, Mahmoud Alaa, Ayman Ashraf, Ahmed Fattouh, Yasser Ibrahim.
Defensive midfield: Amr al-Solayya, Mohamed Elneny, Hamdi Fathi, Emam Ashour, Mohamed Magdy Afsha, Ahmed Sayed Zizou, Nabil Imad Dunga.
Attacking midfield: Omar Marmoush, Mahmoud Hassan Trezeguet, Mohamed Salah.
Forwards: Mostafa Mohamed, Marwan Hamdi.
The expected formation of the Egyptian team to face Senegal on Tuesday:
Goalkeeper: Mohamed El-Shennawy.
Defense:
Ahmed Fattouh, Mahmoud el-Wensh, Mohamed Abdel Moneim and Omar Kamal Abdel Wahed
The middle:
Hamdy Fathyi, Amr al-Solayya and Mohamed ElNeny.
Forward:
Mohamed Salah, Mustafa Mohamed and Mahmoud Hassan "Trezeguet".