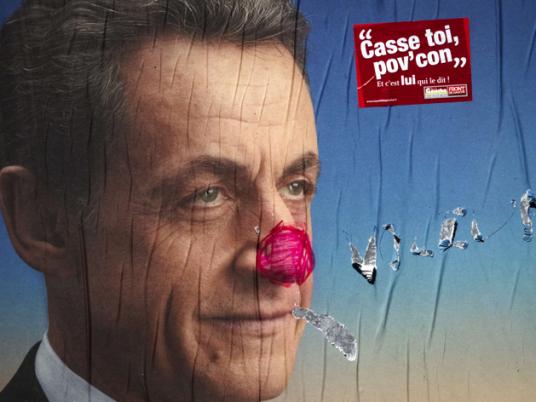 Former French President Nicolas Sarkozy was held for questioning on Tuesday over suspicions that he received leaked details of an inquiry into alleged irregularities in his 2007 election campaign.
It was the first time a former head of state had been held for questioning in modern French history and is the latest blow to Sarkozy's hopes of a come-back after his 2012 election defeat by Francois Hollande. The conservative politician denies all wrongdoing in a string of investigations involving him.
Sarkozy arrived early Tuesday to be quizzed by investigators at their offices in Nanterre, west of Paris, after his lawyer was held for questioning on Monday.
"Mr. Sarkozy has been summoned to Nanterre and is being held for questioning," the source told Reuters.
Asked about the matter, government spokesman Stephane Le Foll said Sarkozy was "subject to justice like everyone else."
"Justice authorities are investigating and have to go all the way," he told i<Tele television.
Allies rushed to his support.
"Never has any former president been the victim of such treatment, such an outburst of hatred," Christian Estrosi, the mayor of the southern city of Nice and a close Sarkozy ally, said on his Twitter account.
The case is one of six legal cases involving Sarkozy either directly or indirectly, including more recent allegations of irregularities in his unsuccessful 2012 election campaign.
The current questioning relates to suspicions he used his influence to get information on an investigation into funding irregularities in his victorious 2007 election campaign.
Sarkozy can be held in custody for up to 48 hours.
One cloud was lifted off Sarkozy's future last October when a court dropped inquiries into whether he had exploited the mental frailty of France's richest woman, L'Oreal heiress Liliane Bettencourt, to fund that campaign.
But as investigators used phone-taps to examine separate allegations that late Libyan leader Muammar Qadharfi funded the same campaign, they began to suspect he had kept tabs on the Bettencourt case through a network of informants.
Those suspicions finally prompted the formal launching of yet another investigation into influence-peddling in February. Sarkozy has likened the magistrates behind the phone-tapping to the "Stasi" police of former Communist East Germany.
Sarkozy, 59, retired after his defeat by Hollande, but has continued to snipe both at the Socialist president and rivals inside his own conservative camp with messages carefully placed in local media by his political entourage.
Asked about his future at a closed-door event at France's parliament last week, Sarkozy said he was still "in a period of reflection" but indicated he would make up his mind in coming months whether to seek the 2017 ticket of his UMP party.
Yet a growing number of voices in the UMP have been arguing he is too much of a liability to run for them as president.
Those calls grew louder last week as a separate funding scandal over his 2012 election campaign escalated.
The former deputy director of Sarkozy's campaign, Jerome Lavrilleux, said four UMP members besides himself agreed to use false accounting to cover rising campaign expenses that had surpassed a legal limit. Lavrilleux said Sarkozy himself was not aware of the accounting irregularities.