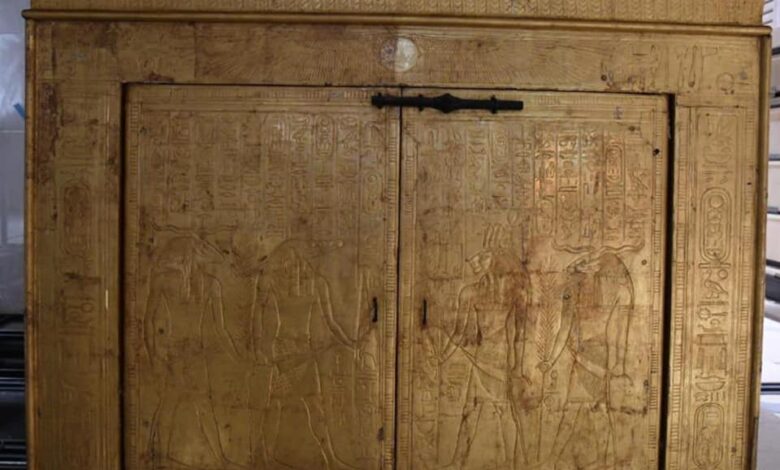 The restorers and archaeologists of the Grand Egyptian Museum (GEM), in cooperation with a national company, have completed the transfer and re-installation for the second shrine of the king Tutankhamun for display.
The Supervisor of the GEM Project and the Surrounding Area Atef Moftah said that installing the shrine took about four hours of meticulous work. The process of assembly and installation of the shrine was done with great skill, bringing the number of shrines that were transferred from the Egyptian Museum in Tahrir to GEM to three.
Moftah noted that the fourth shrine, which is the smallest of the shrines, then the third, and then the second shrine, have all been transferred to GEM.
He added that the second shrine is the largest of the pieces that were transferred from Tutankhamun's treasures.
The Assistant Minister for Archaeological Affairs at GEM al-Tayeb Abbas, explained that the museum's staff removed the protective layers from the walls of the shrine, which were used to protect them during the transfer, and cleaned all gilded surfaces.
Abbas said that the shrine was found in the king's possessions in his tomb on the western bank of Luxor, which was discovered in November 1922, and then transferred with the rest of the pieces to the Egyptian Museum in Tahrir.
The remaining first shrine will soon be moved so that all shrines will be displayed together in the halls dedicated to displaying the treasures, an area of about 7,200 square meters equipped with the latest museum display methods.
Work on moving the remaining artifacts of King Tutankhamun is going on according to schedule, he said.