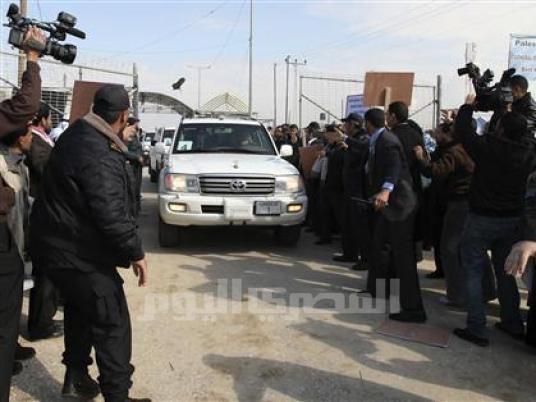 TBILISI — Billionaire Bidzina Ivanishvili said on Tuesday he was confident of becoming prime minister of the former Soviet republic of Georgia as partial results put his opposition coalition on course to win a parliamentary election.
Ivanishvili's supporters streamed through Tbilisi's streets after polls closed on Monday, waving flags and sounding car horns in celebration despite rival victory claims by President Mikheil Saakashvili's United National Movement (UNM).
If Ivanishvili's Georgian Dream ousts Saakashvili's ruling party, the election will mark the first peaceful transfer of power between rival parties since the Caucasus country won independence when the Soviet Union broke up in 1991.
But a victory by Ivanishvili could also pitch Georgia into months of uncertainty. Saakashvili, who accuses Ivanishvili of planning to bring Georgia back under the sway of Moscow, would remain as executive president, facing an assertive opponent in the prime minister's office.
Any signs of instability in the country of 4.5 million would worry the West because of its role as a conduit for Caspian Sea energy supplies to Europe and its strategic location between Russia, Iran, Turkey and Central Asia.
Saakashvili's party also claimed victory. Either side could dispute the outcome, adding to uncertainty.
"My political plan is very simple," Ivanishvili told Channel 9 television, which he owns. "When our victory is officially confirmed, I hope … parliament will approve me as a prime minister."
Results trickling in gave Georgian Dream a narrow lead in the vote, which under Georgia's electoral system allocates 77 of the 150 parliament seats according to party lists and the other 73 according to constituent victories.
With ballots from 21 percent of polling stations counted under the party list system, Georgian Dream had 54.3 percent and Saakashvili's United National Movement had 40.6 percent, the Central Election Commission said.
It said preliminary counts showed Georgian Dream won 27 of the 73 races in constituencies, the UNM had won 25 and ballots from the other 21 remained uncounted.
The UNM had said on Monday it believed it won at least 53 of those races, but the results showed its hopes were fading.
Ivanishvili, a former recluse who made his estimated US$6.4 billion fortune mainly by doing business in Russia and rejects UNM accusations he is a Russian stooge, said Georgian Dream could win 100 seats in parliament.
"A very interesting precedent has been set in which the leadership has been replaced through elections," he said.
Premier will be more powerful
Reforms that are to take effect after a presidential election due to be held next year will weaken the head of state while handing more power to parliament and the prime minister, who is to be the most powerful executive official.
Ivanishvili laid out plans he would pursue as prime minister, saying a balanced budget would be a priority.
Saakashvili cautioned late on Monday that the election results were not yet in, and the US ambassador earlier in the day urged Georgians to "stay calm" until votes were counted.
Saakashvili has vowed to step down after the presidential election next year, but if his party managed to retain its majority in parliament, it could give him a way of continuing to call the shots in Georgia.
Georgian Dream's strong showing was an indictment of Saakashvili, who was first elected in 2004 after the Rose Revolution — street protests over alleged fraud in a parliamentary election — toppled the post-Soviet old guard.
The US-educated politician won praise for curbing corruption and implementing economic reforms, but he led Georgia into a disastrous five-day war with Russia over two breakaway regions in 2008. Opponents say he has monopolized power, mistreated opponents and trampled on rights and freedoms.
Saakashvili says the Georgian Dream coalition would move Georgia away from the West and back into Moscow's orbit, and has suggested Ivanishvili is doing the bidding of the Kremlin after making his money in Russia.
Ivanishvili denies it and accuses Saakashvili of raising the specter of Russia to avoid addressing internal problems.
Torture video
Tension was high after video footage of torture, beatings and sexual assault of prison inmates led to street protests after it was aired on two television channels opposed to Saakashvili about two weeks before the election.
The footage undermined Saakashvili's image as a reformer who had imposed the rule of law and rooted out corruption.
Ivanishvili has won votes by promising to tackle poverty and corruption, blaming these problems on Saakashvili. Both leaders have called for calm and said they want to avoid any violence.
Police used teargas, rubber bullets and water cannons to disperse protesters in Tbilisi in November 2007. Security forces again cracked down on protesters in 2010 after opponents occupied a central square.