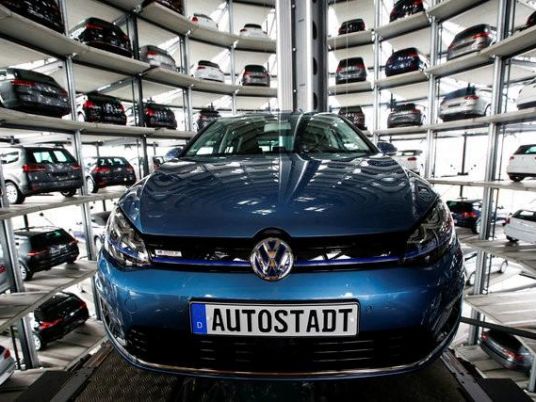 The German state of Bavaria said on Tuesday it would sue Volkswagen for damages caused by its emissions-test cheating scandal, the first regional government in VW's home country to take legal action against the carmaker.
Bavaria's state pension fund for civil servants lost as much as 700,000 euros (US$783,580.00) after VW shares plunged in the wake of the Sept. 18 revelation by U.S. regulators of the carmaker's manipulation, a spokeswoman at the Bavarian finance ministry said.
Bavaria, home to German blue-chip companies including BMW, Siemens and Allianz, owned about 58,000 VW preference shares when news of the scandal broke, she said.
Europe's largest automaker is also caught up in legal action in the United States, South Korea and elsewhere and is facing billions of dollars in costs related to its emissions-test manipulations, making it the biggest scandal in VW's history.
Bavaria's pension fund lost out from the fall in the shares, Bavarian Finance Minister Markus Soeder told German news agency Deutsche Presse-Agentur (DPA), his spokeswoman said. "We want this money back," said Soeder, a member of the Christian Social Union sister party of Chancellor Angela Merkel's Christian Democrats.
Soeder said Bavaria's pension fund would file its suit against VW in September at the regional court of Braunschweig near VW's Wolfsburg headquarters in the state of Lower Saxony, according to DPA which reported the legal action earlier on Tuesday.
VW declined to comment.
Bavaria is not the only one of Germany's 16 federal states to have criticized VW.
Lower Saxony, VW's second biggest shareholder which has a veto power on the carmaker's supervisory board, in June withheld backing for VW's former chief executive Martin Winterkorn and current brand chief Herbert Diess in a vote to ratify the actions by both men in 2015 when the scandal came to light.
Winterkorn and Diess are subject of a probe by Braunschweig prosecutors who are also investigating more than a dozen lower-level VW managers over the scandal.
Lower Saxony did not immediately respond to calls from Reuters seeking comment on whether it would consider legal action.