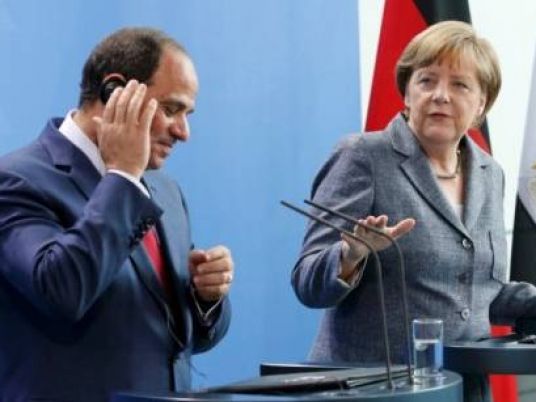 Germany has no restrictions on the provision of arms to Egypt, Germany's Vice Chancellor and minister for economic affairs and energy said on Sunday in a press conference following his meeting with the Egyptian president in Cairo.
Sigmar Gabrielin is heading a German delegation on a visit to Cairo to enhance bilateral cooperation.
He added that Egypt is on the right track and is making strides towards democracy.
Gabriel's meeting with Egyptian President Abdel Fattah al-Sisi tackled the fight against terrorism as well as human rights, freedom of expression and border security issues.
He said that Germany is keen to support Egypt in securing its borders against terrorism.
Responding to a question about the existence of restrictions on the export of arms to Egypt, Gabreil said that "there are no restrictions on the export of arms to Egypt from Germany," adding that security and stability in Egypt are linked to security and stability in Germany.
In March, the European Parliament passed a non-binding resolution condemning the human rights situation in Egypt with particular emphasis on the case of Italian student Giulio Regeni.
The young Italian researcher, Regeni, went missing in Cairo on January 25, 2015, which marked the fifth anniversary of the popular uprising that toppled former president Hosni Mubarak. Ten days later, his body was found, bearing signs of torture, in a roadside ditch on the outskirts of Cairo.
His case sparked controversy, with Egypt's interior ministry was blamed by Italian media to have been involved in the case, which the ministry repeatedly denied.
The European Parliament, accordingly, called for the "suspension of any form of security cooperation and assistance with Egyptian authorities, as long as its security apparatus continues to fuel radicalism and violent extremism through its systematic violations committed in full-impunity."
Gabriel said that Germany will provide all support to Egypt in respect of investment, and that the country is a pillar of stability in the Middle East.
Sisi has invited German Chancellor Angela Merkel to visit Egypt soon, Gabriel said.
Egypt's President Abdel Fattah al-Sisi made his first official visit to Germany as president in June 2015 after being invited by German Chancellor Angela Merkel.
The visit had sparked controversy in Germany particularly after the head of the German lower house of parliament Norbert Lammert cancelled a scheduled meeting with Sisi, citing an "unbelievable number" of death sentences.