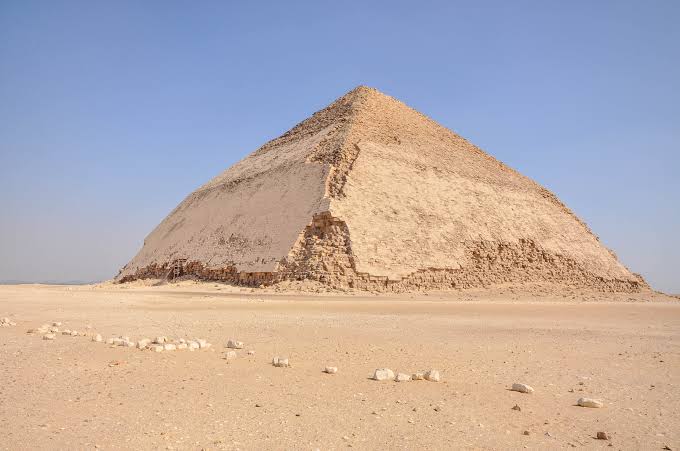 Antiquities Minister Khaled al-Anani on Saturday inaugurated the Bent Pyramid of King Sneferu and the Alkaa Dogmatic pyramid in Giza's Dahshur archaeological area, open to the public for the first time since 1965, Anani said.
He added that the Bent Pyramid and other pyramids located in Dahshur are registered on the UNESCO World Heritage List as belonging to the Memphis cemetery.
Anani also announced the archaeological discoveries made by an Egyptian archaeological mission operating for almost a year in the area, about 300 meters southeast of the pyramid of King Amenemhat II. The mission discovered an ancient winding wall that extends about 60 meters to the east of Amenemhat II pyramid.
This discovery represents an important architectural element of the Middle Kingdom era, the minister said.
He added that they also found stone and wooden coffins featuring mummies in good condition, in addition to pottery and wooden masks, some incomplete, and a set of tools for cutting and polishing dating from later periods, which indicate that the site has been reused during the Middle Kingdom's later years.
Anani pointed out that the Bent Pyramid represents a transitional stage in the process of building pyramids between the Step Pyramid of Djoser and the Medium Pyramid.
Secretary General of the Supreme Council of Antiquities Mostafa al-Waziry said that the restoration processes for the Bent Pyramid of King Sneferu and the Alkaa Dogmatic pyramid was conducted by the Antiquities Ministry, and included building internal and external staircases and walkers to facilitate visitor movement.
A lighting network inside and outside the pyramid was established as well, in addition to strengthening some of the stones of the corridors and the restoration of the burial chamber of the Bent Pyramid.
The opening ceremony was attended by Giza Governor Ahmed Rashid, Waziry, UNESCO officials, and about 40 ambassadors from foreign and African countries in Egypt, including ambassadors of England, France, Italy, Germany, Denmark, Netherlands, Cyprus, Finland, Japan, Colombia, and Equatorial Guinea, as well as embassy representatives of Cuba, Peru, Tajikistan, and Niger.
Edited translation from Al-Masry Al-Youm