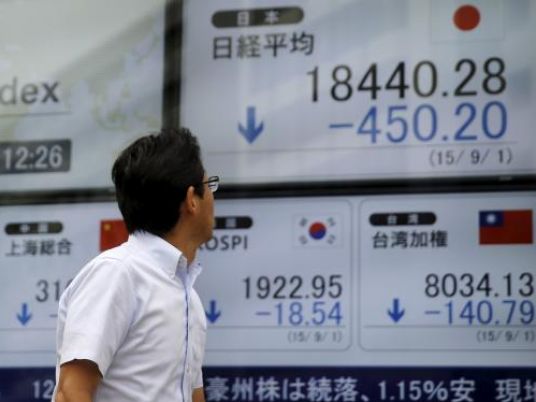 Global stocks are set for a short-term sell-off on Monday after Islamist militants launched coordinated attacks across Paris that killed 129 people, but analysts said a prolonged economic impact or market reaction was unlikely.
President Francois Hollande has declared a state of emergency, ordering police and troops into the streets, and set three days of official mourning after the attacks he called an "act of war" by Islamic State.
The carnage prompted condemnation by world leaders and outpourings of support for Parisians from around the globe, but would likely have only a knee-jerk impact on investment decisions, said Shane Oliver, chief economist at Australia's AMP Capital in Sydney.
"History will tell us that if the economic impact is limited – and I think it will be – that markets will quickly recover and go on to focus on other things," Oliver, who is also head of strategy at the AUS$156 billion (US$111 billion) wealth management firm.
While news of the attacks hit after markets closed on Friday, S&P 500 Index futures were still trading and shed about 1 percent in light volume.
"If this had happened during market trading hours there could have been a panic but markets had a weekend to digest all the information," said Eiji Kinouchi, chief technical analyst at Daiwa Securities in Tokyo.
With Wall Street closing more than 1 percent lower after weak US retail sales figures, Asian and European share markets would have been expected to fall even without the Paris attacks.
French stocks, particularly those exposed to the country's large tourism sector, are likely to suffer the biggest falls.
"These Paris terrorist attacks and the larger scale of this attack could have a meaningful negative impact on the travel and tourism sector," said Robert T. Lutts, president and chief investment officer at Cabot Wealth Management in Salem, Massachusetts.
France has the largest number of tourists in the world and the sector accounts for almost 7.5 percent of GDP.
"Given that France has a big tourism industry there may be some damage to the economy if this leads to a fall in visitors to France, or in tourism in general after the crash of a Russian plane," said Hidenori Suezawa, financial market and fiscal analyst at SMBC Nikko Securities.
"I do not expect this impact to go so far as to affect the Fed's monetary policy though at this point."
Europe has suffered similar coordinated attacks on public transport systems previously, in Madrid in 2004 and London in 2005. Almost 250 people were killed and more than 2,500 injured in those bombings on trains and buses by Al-Qaeda-inspired militants.
"The knee-jerk reaction in other terrorist attacks over the last decade has been a rush to safety, including aggressive buying in the US Treasury markets," said Guy LeBas, chief fixed income strategist at Janney Montgomery Scott LLC in Philadelphia.
"I sincerely hope these attacks will prove short in duration and will abate in intensity, in which case the market reaction will likely only include a brief safety bid in Treasuries."
US 10-year Treasuries notes yielded 2.273 percent at Friday's close. The euro ended the week little changed at $1.0777, and is down 11 percent this year against a resurgent greenback.
French financial markets will be open as usual on Monday, stock and derivatives exchange Euronext said on Saturday.
(US$1 = 1.4027 Australian dollars)