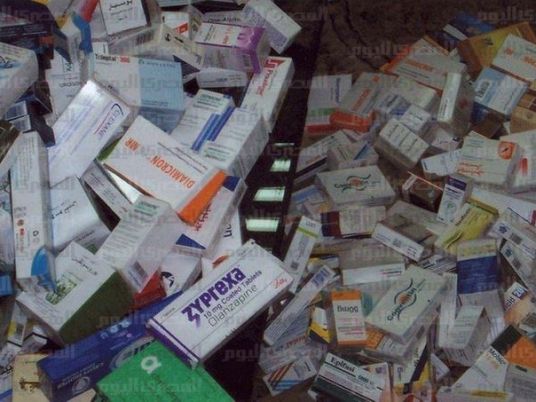 The Ministry of Health has decided to issue a "drug monitoring" system which aims to control the pharmaceutical market, eliminate drug fraud and prevent the spread of illegal and unknown medicines in Egypt.
The Ministry of Health, in cooperation with pharmaceutical companies, is working to launch the new system as a "central network" that will serve as a database for all medications traded in the markets, said Yassin Rajaei, the official spokesperson for the Central Department of Pharmaceutical Affairs at the ministry.
Rajaei explained that the "drug monitoring" system is an electronic and digital system that several countries have already implemented to track the drug supply chain. The system will monitor the medication from its production at factories, all the way through to its distribution into pharmacies and finally its delivery to customers.
"The customer will be able know if the drug is good or if it has been adulterated, smuggled or is expired. This monitoring will eliminate the mafia working in the pharmaceutical industry," Rajaei said.
The system will print two barcodes (a 2D one and another for identification) to be put on the back of the packaging. These barcodes will be monitored through a central network that would be implemented by the Central Department of Pharmacy Affairs in the Ministry of Health. It will connect all pharmaceutical factories, companies, hospitals and pharmacies in a comprehensive network for drug tracking to monitor imported and locally-manufactured medications.
He added that the new mechanism will help to provide safe locally-prepared medication to Egyptian patients and will permanently eliminate adulterated drugs.
Ali Auf, head of the General Division of Drug Traders at the Federation of Egyptian Chambers of Commerce (FECC), said applying the system requires a huge amount of money for its preparation, including the digital printing machines, optical reading devices and another electronic devices. "Without providing the required equipment at all Egypt pharmacies, which number 72,000, the system will be useless," he explained.
He said the government should take its time in applying this technique as it took eight year to come into effect in Turkey and the United Atates; Saudi Arabia postponed its activation for five years.
"The government should take steps to fight drug corruption before implementing the drug tracking system," he said.
Ahmed Idris, spokesman for the General Division of Pharmacy Owners at the FECC, said the drug monitoring system must be generalized for all medical products and a mechanism must be established to connect the ministry with the factories and pharmacies. He pointed out that the system will contribute to solving the phenomenon of drug deficiencies as the pharmaceutical product will include the identification barcode, the expiry date and the random number sequence for each package.
In the last months of 2016, pharmaceutical companies, distributors and pharmacies have been accused of taking advantage of the government's decision to increase the prices of medicines on sale in Egypt, bending the rules in order to overcharge customers and make huge profits.