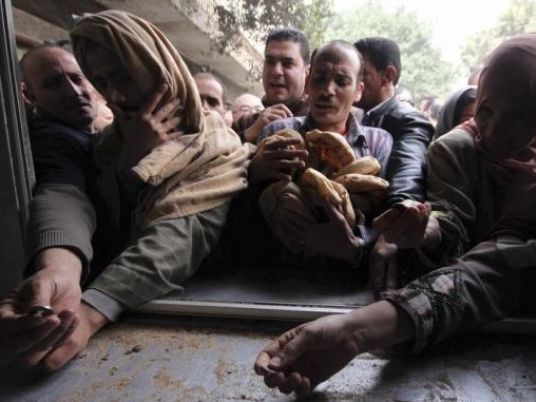 The crisis of the 'gold card', used to get subsidized bread in the governorates, had been solved on Wednesday after the Ministry of Supply handed over 100,000 new smart cards to various governorates to provide them to citizens, so that they no longer have to depend on gold cards to get their ration of bread at the bakeries.
Egypt operates a system in which each family receives a plastic card to buy five subsidized loaves per person per day. The government then pays bakeries a subsidy, calculated per loaf of bread sold.
Bakers also receive gold cards to sell bread to individuals without a smart card – generally those waiting for ration cards, and were issued temporary cards in the meantime.
In all, 55,000 cards were handed to Minya; 11,000 cards to Fayoum; 16,000 cards to Assiut; 12,000 to Giza; 3,485 to Kafr Al-Sheikh; and 22,000 cards to New Valley.
The situation is now calm in Kafr Al-Sheikh, in the wake of protests that blocked roads and halted train traffic. The gold card share has been increased to 1,000 loaves of bread, instead of 500.
A state of emergency has been declared to face the crisis, amid warnings to the bakery owners who abstained from providing citizens with bread.
In Alexandria, Governor Mohamed Sultan threatened with closure any bakeries that refrain from providing bread to citizens.
The Supply Ministry on Monday denied it was planning to cut bread subsidies, after local media reported that rations would go from five to three loaves a day.

Edited translation from Al-Masry Al-Youm