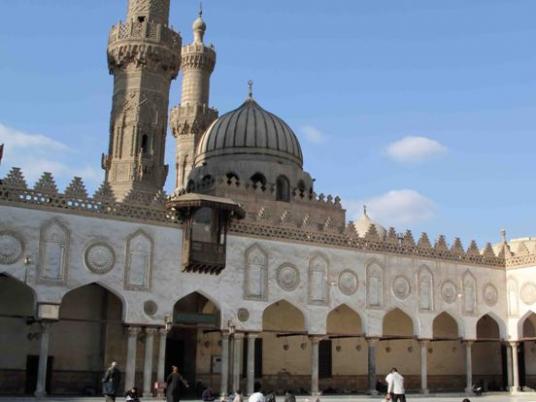 Officials went to the drawing board with a controversial law on sukuk , or Islamic-sanctioned bonds, that was set to go before the Shura Council last week.
The Cabinet approved a new draft law on Islamic bonds, along with several other institutions, Finance Minister Morsy Hegazy said Wednesday, and are hopeful about passing the law.
The first draft law, which is considered a milestone for a country that has long lagged behind in fostering government-sanctioned Islamic finance, was not accepted by Al-Azhar, the country's religious authority.
"Proposed amendments to the Islamic instruments bill from the Islamic Research Academy have been taken into account," new Finance Minister Morsy al-Hegazy told Reuters after meeting with top Al-Azhar University officials.
The sukuk draft law has drawn criticism from religious figures and financial scholars alike, although state officials tout the bonds as the way out of the nation's financial crisis.
The Islamic bonds, which would ostensibly plug some gaps in finance the country's growing budget deficit, represent the first serious step taken to promoting Islamic finance since President Mohamed Morsy came to power.
Sukuk have become a common financial option in many Islamic countries and a number of European ones, such as France and Germany. Malaysia has nearly two-thirds of all sukuk issued worldwide. The ratings agency Standard & Poor's has an index for sukuk bonds.
But adopting the Islamic banking law in Egypt has drawn significant scrutiny from civil society and religious figures — an indication of the struggle over Sharia-based laws in the future.
A big misunderstanding
The controversy, experts say, is largely a product of misunderstanding.
Members of Al-Azhar's Islamic Research Academy rejected the Finance Ministry-backed bill, saying it "violates Islamic Sharia and endangers the state's sovereignty."
The bill would allow foreigners to own sukuk, as well as shares in local factories and businesses, academy member and former Grand Mufti Nasr Farid Wasel told Al-Masry Al-Youm.
"It is like we are selling our properties to foreigners," he said.
The reality, experts say, is that sukuk are financial products that help fund particular projects, not sales of portions of public property.
By financing infrastructure, education and other social development projects, the bonds could relieve some of the strain on the country's budget — though whether sukuk could bring in the billions of dollars the government says they will remains to be seen.
One of the main concerns is that putting the Islamic label on this sort of financing is merely cosmetic, a way to lure investors into a less than attractive market. For this to translate into a flush of financing, it requires the same factors that would bring back foreign direct investment: political stability, proper administrative management and a clear economic plan built on consensus — all of which are missing.
"Sukuk is a financial tool by which the buyer takes part in a project," explains Islamic banker Hassan al-Meshad. "There is no ownership."
Meshad said he felt he could not issue a judgment on the draft law, since it was still in formulation.
"It can really help with financing," he says.
Walid Hegazy, secretary general of the Egyptian Association of Islamic Finance and managing partner at the law firm Hegazy and Associates, says sukuk will bring in Gulf and Islamic-focused investors.
"Sukuk will definitely broaden the options," he says.
In Islam, interest is forbidden, as are other banking practices that are deemed "usurious," or seen as taking advantage of a person's financial need. Though interpretations of what is acceptable vary — with many "Islamic" transactions resembling widely accepted practices — profits in alcohol, pork and entertainment featuring scantily clad women are unanimously considered prohibited.
In a press conference last week, financial authority and banking officials sought to explain the legal nature of the sovereign bonds to a group of professors, bankers and journalists. They emphasized that the law being discussed pertained to government-issued bonds, not those issued by private companies.
More than one expert said foreign ownership should pose no problem, as it is common practice for most international governments to issue bonds on their debt, and the idea of sukuk does not imply ownership.
Al-Azhar's disapproval also worried some in the crowd. One attendee asked how the law could go forward after the country's religious authority had already rejected it.
Ahmed Naggar, member of the Freedom and Justice Party Economy Committee, responded by saying that because of their Islamic nature, most sukuk buyers would be Egyptian or Arab, so it is unlikely to become a sovereignty issue.
The bonds would be governed by an independent body, and would be guaranteed as Sharia-compliant by an appointed official, said Ashraf al-Sharqawy, Supervisory Financial Authority chairperson.
He said it was good that in the text of the law, the writers had decided to take the word "Islamic" out of the description.
"It's not about whether this is halal or not," he said, using the Arabic word for describing something sanctioned in Islam. "Our role is to organize Islamic tools, and this is about investing in line with Islam."
Naggar said he was hopeful about the law. He emphasized sukuk as a real solution to capital shortage for businesses, and their potential to help the economy move forward.
"It has been an international success," he said. "Hopefully we will have many more meetings like this to discuss it."
"This law is so controversial because it's related to two issues," Halat Saeed, chairperson of board of the Egyptian Center for Economic Studies, which hosted the conference, told Egypt Independent. "One, it will decide what is Sharia-compliant, and two, because it's dealing with public assets."
Mismanagement
The fact that religious scholars and some experts do not understand how sukuk work is a sign of the government's lack of financial experience and economic know-how, some experts say.
"They really mismanaged the whole thing," said Hegazy, from the Egyptian Association of Islamic Finance.
The association, which Hegazy said has been also working closely with some political parties, consulted with the Finance Ministry in November about the draft law.
He was surprised, he said, when he saw that the released draft law did not take into consideration the association's suggestions.
"My feeling is the government just wanted to satisfy the Brotherhood or the FJP without a real understanding of the implications of the law, and without being fully convinced of the benefit of the law," he said.
The law's inadequacies, Hegazy said, can be attributed to the lingering habits from the former regime, which discouraged Islamic finance despite its growing international popularity.
"Most of the people who are in these different authorities were also part of the regime, which was opposed to releasing any Islamic finance products like sukuk for 20 years," he said. "So it's somewhat surprising to me to see those, who were previously opposed to this without any objective reason, now trying to come up with a genuine effort at legislating it. I see the irony."
But Hegazy sees the larger conversation and controversy surrounding the law as a healthy exercise.
"I am very hopeful and I think what's happening is normal," he said. "They don't have internal expertise; they must listen to society and the experts."
It's also a point Hegazy is not afraid to make with old-guard colleagues.
Recently, he says, he heard an official balk at the fact that experts and NGOs and civil society were suggesting amendments to the law.
"I told them this is an unacceptable criticism because we experts are part of society and we have the right to suggest whatever we want," he said. "We should say goodbye to the old days, when laws were just issued, not discussed."
This piece was originally published in Egypt Independent's weekly
print edition, and is an updated version of the article "Islamic bond law draws controversy" published online.