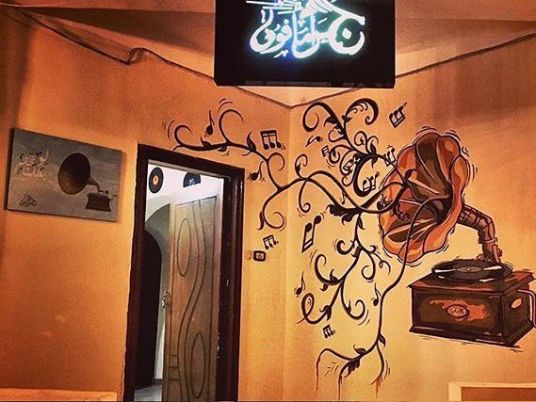 Fresh out of the oven, a new cultural space in Maadi called Gramophone aims to bring more culture to the suburb. With an impressive list of activities on offer, they have most areas of culture covered, offering everything from yoga classes to underground electronic music performances.
Started midway through last Ramadan, the space has grown in popularity ever since, becoming a haunt for a certain kind of straight-edged Cairo intellectual. The owners admit to taking inspiration from the famous Sawy Culture Wheel in Zamalek, an important piece in the large cultural jigsaw puzzle that is Cairo.

Three of the five owners of Gramophone standing at the welcoming entrance of the cultural venue.
"The aim was to create a community center that would be like a second home to those who visited," says architect May Khaled, one of Gramophone's five owners.
At the center of Gramophone's philosophy is a strong sense of community and a rather romantic notion of human connection. They seek to connect people through common cultural interests, people who may not have otherwise met. The activities are also set up to make people feel at home and to cater to different cultural interests.

The inviting entrance to Gramophone on Street 200, Degla, Maadi
Sound and vision
Gramophone hosts local underground bands, offering a great opportunity to find out what kind of music is being made locally. Often in Egypt, audiences are open to new music, but they don't know it exists. Gramophone is among a handful of places that showcase Egypt's new musical talent, and in the process, they support and promote the nation's budding musicians.
To complement the experience of music consumption, Gramophone also offers classes in a range of musical instruments. Among those on offer are violin and guitar, and the list is certain to grow over time.
There are also documentary screenings in the mix, with discussions of the materials watched, attended by an expert on the documentary subject. If Egypt is missing one thing from an artistic point of view: it is dialogue, an activity that can help integrate art scenes that have become fragmented into various cliques.

One of Gramophone's book discussions.
The idea is that discussions can help people learn more from any experience, thereby helping to educate and enlighten cultural consumers. If big things can be achieved through small initiatives, Gramophone seems to be a good candidate for success.
Continuing the discussions theme, there is also a program of talks from influential people. The next visitor will be Egyptian explorer Omar Samra, a well known Egyptian success story.
Spacing out
Gramaphone is open seven days a week, although there aren't necessarily activities on every day, at least not yet. However, the lack of a formal activity is not necessarily a problem, since Gramaphone provides a relaxing space in which to simply unwind. With both an indoor and an outdoor area — including a garden — the space is perfect for reading a book or having a chat.
The outdoor area includes a fully-fledged restaurant with soups, salads and main dishes, along with hot and cold drinks. Which means anyone tempted to spend a whole day hauled up in there — reading, chatting, working on the laptop — won't go hungry. After all, a second home feeds its inhabitants.
Gramophone is also aiming to promote reading culture in Cairo. Indeed, they are on the verge of finishing a large library that will contain books from almost every genre. The combination of library, cafe and garden is certainly an irresistable combination for many people.
As if all this chilling with a book weren't enough, more formalized relaxation can be found in the form of yoga classes. An experienced instructor takes participants through a weekly program, including classes just for women.
With the yoga classes, as with everything else, session are arranged around a weekly schedule, with dates and times published on the center's Facebook page. Khaled says they are aiming for a fixed weekly schedule, with each day assigned to a specific activity. This creates a feeling of being at home; after all, a routine makes things more familiar.
The costs of the various activities are set by the instructors responsible, with the more celebrated and experienced instructors charging higher rates. However, group events such as documentaries and discussions are typically pretty cheap, with tickets not exceeding LE30.
The place is only a few months old, so there are various wrinkles in operations to be smoothed out. However, Khaled and her partners have big plans for the space, and with enough time, the project could turn into a crucial piece of the Cairo arts-and-culture jigsaw.

Tanoura show at Gramophone's garden.
You can find Gramophone on Street 200 in Degla, Maadi.
Telephone: 0115 870 0025
Facebook page: https://www.facebook.com/Gramaphoners/