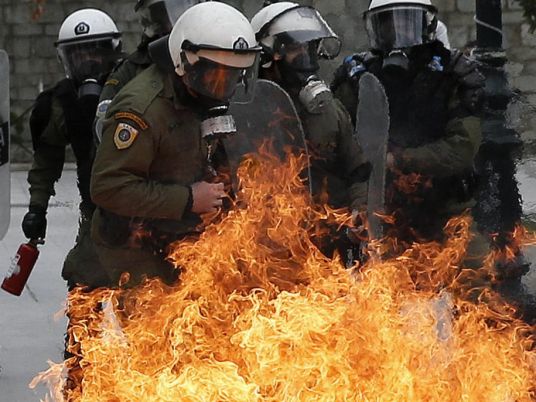 Greek police clashed with hooded youths in Athens on Friday after thousands marched to mark a bloody 1973 student uprising that helped topple the military junta which then ruled the country.
More than 10,000 people marched peacefully to the embassy of the United States, which some Greeks accuse of having supported the seven-year military dictatorship. About 5,000 police were deployed in the streets of central Athens.
At the tail-end of the demonstration, hooded youths hurled stones and petrol bombs at police in the Exarchia district in central Athens, often the setting for such clashes. Police used teargas to disperse them.
Earlier on Friday, Greeks laid flowers at the Athens Polytechnic University to honor those killed during the revolt. The junta collapsed less than a year later.
The annual protest often becomes a focal point for protests against government policies and austerity measures mandated by the country's international lenders in exchange for bailout funds. The crisis that broke out in 2010 has left hundreds of thousands of people unemployed.
Protesters held banners reading: "We will live freely" and "No pensioner will be fired!"
After seven years of belt-tightening Greeks hope that they will emerge from lenders' supervision in August 2018, when the country's third international bailout expires. Many of them accuse a political elite of driving the country to bankruptcy.