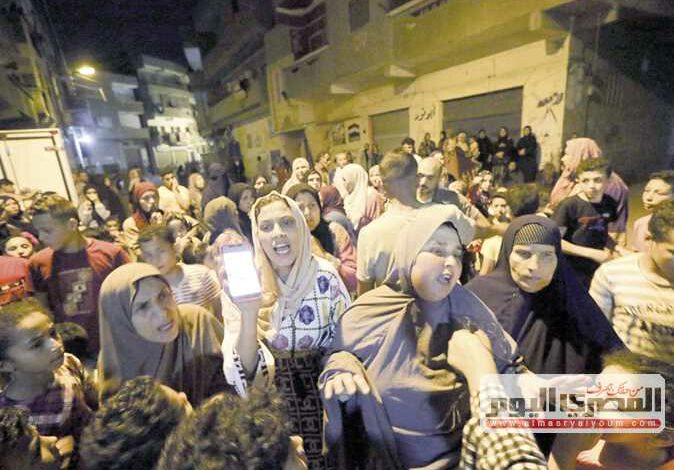 In just one night, grief swept the homes of an entire village on the outskirts of Dakahlia Governorate after a boat illegally carrying over 70 people capsized off the Mediterranean Sea on Friday.
The disaster left 11 dead thus far, with many more missing.
The villagers began a search trip with the goal of uncovering answers behind what happened and where the survivors are.
Al-Masry Al-Youm visited Telbana village at Mansoura City for a first-hand look at the grief that has gripped the village like an iron vice.
Dozens anxiously wait for news about the missing members of their families.
In front of the police station, the people gathered racing to report cases of their missing relatives, and to address the Foreign Ministry to search for them. In turn, the Dakahlia Investigation Department intensified its efforts to arrest illegal immigration brokers, with four already apprehended in connection with the accident.
Uncertainty prevails.
Awad Hassan, father of one of the missing, said: "I do not know anything about my son. If he is dead, I want his body. If he is alive, please reassure me."
Hassan added: "My son (Ahmed) is 19 years old, and he traveled on June 26 to Libya, through Mohamed Abu Samra, a broker residing in Libya, and his brother who got from me LE 23,350 and LE 2,500 once he arrives. My son spoke to me and reassured me that he had arrived in Libya, and he sat in storage, until August 21, and embarked on the boat, and since then I have not heard anything about him."
"All we know is that the boat sank."
For nearly a decade, war-torn Libya has been the main transit point for migrants fleeing war and poverty in Africa and the Middle East and looking to settle in Europe. Smugglers often crowd desperate families into poorly-equipped inflatable boats that break down and stumble along the perilous road in the middle of the Mediterranean Sea.
In recent years, the European Union has partnered with the Libyan Coast Guard and other local groups to stop dangerous sea crossings.
But rights groups say these policies leave migrants at the mercy of armed groups, taking a dangerous journey at sea, or being held in filthy, abuse-ridden detention centers.
Edited translation from Al-Masry Al-Youm