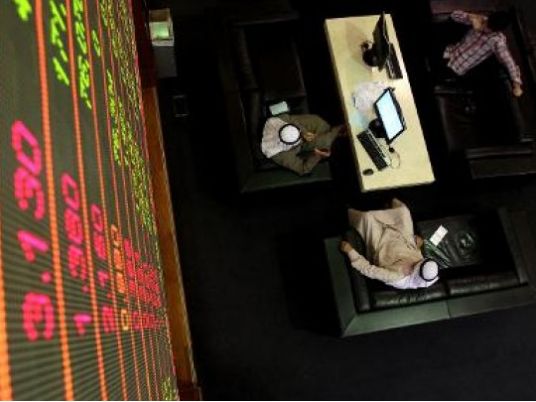 Most Middle East stock markets fell on Thursday after Saudi Arabia and its allies in the region launched air strikes against Yemen's Houthi militia, but they came well off their lows late in the day as the initial panic subsided.
Saudi Arabia's bourse, which is by far the region's biggest market and closes later than others in the Gulf, finished higher.
Warplanes attacked the Yemeni capital Sanaa's airport and its al Dulaimi military airbase on Thursday after the Houthi militia and its army allies advanced towards the city of Aden a day earlier.
Yemen's slide toward civil war has made the country a front in Saudi Arabia's rivalry with Shi'ite Iran, which Riyadh accuses of stirring up sectarian strife throughout the region and in Yemen with its support for the Houthis.
The crisis now risks spiraling into a proxy war, and the prospect triggered a wave of selling by volatile retail investors on Thursday. But analysts say even a protracted conflict will have little fundamental impact on Gulf economies, if it remains confined to Yemen's territory.
"Obviously it creates uncertainty and markets don't like uncertainty," said Shakeel Sarwar, head of asset management at Securities & Investment Co in Bahrain.
But he added: "If the situation remains contained and does not spread out, the markets will stabilise or even rebound" within a few days.
The main Saudi index closed 0.4 percent higher after falling as much as 4.2 percent earlier in the day and tumbling 5.0 percent in the previous session as preparations for military operations began.
Blue chips such as Saudi Arabian Mining Co (Ma'aden) , which jumped 3.9 percent, and dairy firm Almarai , up 2.9 percent, were the main supports.
Almarai said on Thursday it had received 250 million riyals ($66.7 million) from an insurer in compensation for a fire at one of its bakeries.
Property developer Dar Al Arkan climbed 1.1 percent, after plunging 15.5 percent in the two previous sessions in response to the government's plan to tax undeveloped urban land.
The company's chairman told Reuters on Wednesday that the new tax was unlikely to be applied to its huge land bank or push land prices down sharply. He also said Dar Al Arkan, which focuses on development of basic infrastructure on undeveloped land and the sale of such land, planned to diversify its business.
UAE, EGYPT
Dubai's index closed 0.8 percent lower at after tumbling as much as 5.9 percent during the day. It ended at 3,407 points, above technical support at the January low of 3,358 points.
Abu Dhabi's bourse was nearly flat, while Qatar edged down 0.8 percent. However, Industries Qatar , the second-biggest petrochemicals producer in the Gulf, rose 1.6 percent as oil prices surged because of the conflict in Yemen.
Markets in Kuwait and Oman were the weakest, dropping 2.4 and 2.6 percent respectively. Both bourses close earlier in the day than other Gulf markets, and investors there had less time to calm down and reassess valuations.
Kuwait underperformed after Minister of Commerce and Industry Abdulmohsen al-Madaj resigned on Wednesday, becoming the second cabinet minister to quit this month after facing public criticism. His departure underlined political tensions that have slowed economic development of the country.
Egypt's market fell 1.6 percent to a fresh two-month low of 9,053 points after the Cairo government said it was providing political and military support to the Saudi-led operation in Yemen.
Beltone Financial Holding was the biggest loser and tumbled 6.1 percent after reporting that its net profit shrank to 15.2 million Egyptian pounds ($2.0 million) in 2014 from 74.2 million pounds a year earlier.
THURSDAY'S HIGHLIGHTS
SAUDI ARABIA
* The index edged up 0.4 percent to 8,903 points.
DUBAI
* The index fell 0.8 percent to 3,407 points.
ABU DHABI
* The index inched up 0.03 percent to 4,373 points.
QATAR
* The index fell 0.8 percent to 11,411 points.
EGYPT
* The index lost 1.6 percent to 9,053 points.
KUWAIT
* The index dropped 2.4 percent to 6,222 points.
OMAN
* The index fell 2.6 percent to 6,113 points.
BAHRAIN
* The index lost 0.7 percent to 1,445 points.