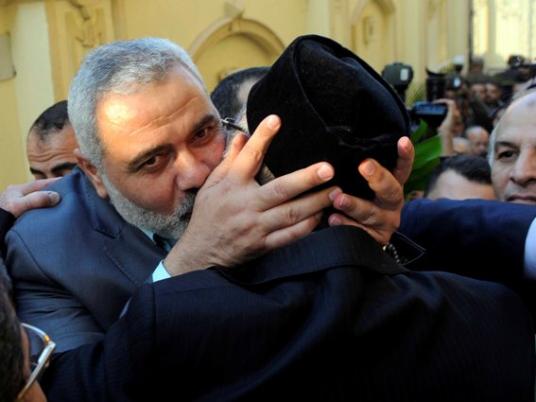 Hamas Prime Minister Ismail Haniya has refuses his movement be labelled a terrorist group by Egypt. He also rejected calls for separation from the Muslim Brotherhood, of whose ideology Hamas stems.
In his speech during a media conference in Gaza on Tuesday, Haniya said, "We reject that Egypt declare a Palestinian National Liberation Movement or Hamas a terrorist group."
Haniya again denied Hamas' intervention in Egyptian local issues saying, "Egypt's security is ours. Egypt is indispensable to us and we are indispensable to Egypt."
He also expressed rejection toward calls for Hamas to distance itself from the Brotherhood, which was recently labelled a terrorist group in Egypt.
"No one, whoever he may be, could pressure Hamas or resistance factions to denounce their ideologies, history, dimensions or depth," he added.
"Hamas and the Palestinian resistance with its history, roots and resistance are too big to be besieged or cornered," Haniya warned.
He also referred to ongoing communication with the Egyptian authorities saying, "there are semi-daily communications on the blockade, reconciliation and Rafah border."
Egyptian security source spoke on condition of anonymity on Thursday saying that Hamas has two choices after declaring the Brotherhood a terrorist group. The first one is to separate from the Brotherhood, or to be declared a terrorist group.
Edited translation from Anadolu Agency